Madrid
Updated:
save

Closed to lime and stone museums, galleries, fairs and biennials, we look at the screens of laptops, tablets and mobiles looking for the consolation that art provides to the human being. There we learn that David Hockney, at 83, is painting spring in Normandy, which the Mona Lisa sad in a Louvre with no visitors, that the thefts of works from Van gogh are coronavirus-proof … It is debated on social networks if we are becoming paintings of Hopper (isolated, alone). But we will always have the genius of Goya to heal the body and soul of the sick in hospitals. Blessed virtual culture.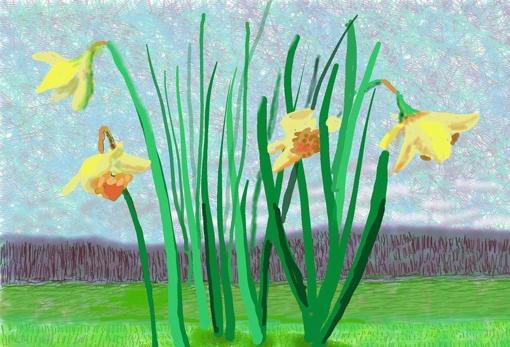 David Hockney and the arrival of spring
We barely noticed it a few days ago, but on March 20 spring came. And we, locked up at home. We have been reminded by David Hockney, the most distinguished living British painter, who, in his "Retreat" in Normandy, he is painting and drawing with his inseparable iPad very spring images. A few weeks ago, Hockney shared one of those works with the Louisiana Museum of Modern Art in Denmark, which posted it on social media. Some beautiful yellow daffodils, under a very evocative title: Remember they can't cancel spring. He also shared it with the director of the National Portrait Gallery in London, who was forced to close a sample of his portraits. Its director, Nicholas Cullinan, posted it on his Instagram.
David Hockney, 83, is quarantined at his Normandy home with his dog Ruby and two of his former assistants, JP and Jonathan. The artist has shared that and nine others unpublished works, painted in the last days, with the BBC, who has posted them on his website. A "gift" for sight (and almost smell) in these dark times of the coronavirus. Hockney visited Normandy in the fall of 2018. He thought it would be a good place to draw and paint the arrival of spring, something he had already done a decade earlier in the Yorkshire countryside, and whose result was seen at the Royal Academy in London, London. the one that is a distinguished member.
Following in the footsteps of Monet at Giverny, set course for Normandy. He was attracted to the range of flowers, plants and fruits in the area. He found a house with a large garden. He bought it, renovated it, built a studio, and settled there in March. «I started drawing winter trees on a new iPad. Then this virus came, "he explains to Will Gompertz, BBC art director. "Many people have said that my drawings have been like a great respite from the news. I intend to continue my work, which I now see to be important. We have lost contact with nature. We are part of it. I am 83 years old, I will die. The cause of death is birth. The only real things in life are food and love, in that order, just like our puppy Ruby. I really believe that the source of art is love. I love life».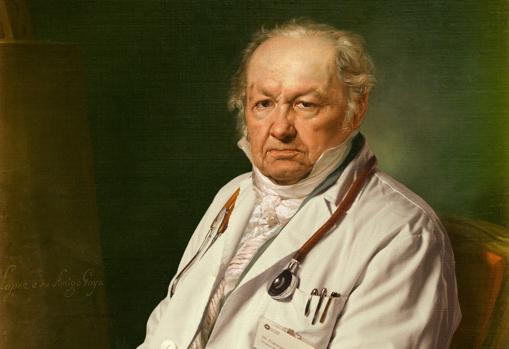 Dr. Goya, go to oncology!
«In November 2019, The OMS it published its prescriptions on art and health directed to the European governments so that they could introduce them into their health and wellness policies: not only those of promotion and prevention, but also those of management and treatment of the disease ", he explains to ABC Juan Alberto García de Cubas, architect, designer and cultural manager. His interest in the role of music as a fundamental tool in the healthcare field led him to co-found the Music in Vena association: 2,600 concerts were held and 51,000 patients benefited.
Now it has launched a new project, the Culture Foundation in Vena, whose objective is "to create new permanent spaces for culture in hospitals". Thus, it will develop cultural interventions in the health field, carry out research on the effects of artistic intervention in improving the lives of patients, integrate the arts in clinical protocols and favor the employment of young artists in health fields. The foundation was born on March 30, Goya's birthday. He had to do it with an exhibition of the painter in the Puerta de Hierro Hospital in Madrid. But, due to the coronavirus pandemic, the project has been postponed, which will be a tribute to those who have fought on the front line.
The exhibition Goya in a hospital?»Will bring together 24 reproductions of works from the Prado (all of them tapestry cartoons, which deal with humorous and pleasant matters), which will be installed in various areas of the Puerta de Hierro: main hall, six waiting rooms with intervened walls, the oncology corridor and five rooms on said floor. The images will be accompanied by a QR code to connect with the Prado website and expand information. After passing through Madrid, the sample will go to the Miguel Servet Hospital in Zaragoza.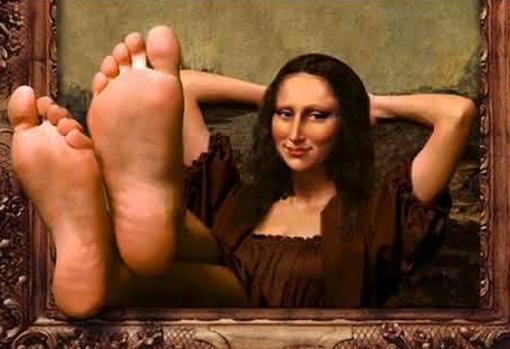 La Gioconda is bored at the Louvre
They say that adversity sharpens ingenuity and the latter show off daily on social networks, where there is talent and a lot of humor. Among the countless memes that flood the internet these days, we discovered a Mona Lisa idle, boring. La Gioconda is sad. What will the Gioconda have? The LouvreLike museums around the world, they are closed by the pandemic, and she, used to being photographed daily by hordes of fans on her "altar," waits patiently, her feet in the frame.
Jokes aside, the Louvre was consolidated again in 2019 as the most visited museum in the world, with 9.6 million visitors, according to a list published by "The Art Newspaper". Of course, no less than 600,000 visitors were left compared to 2018, a record year with 10.2 million. It must be remembered that the strikes in Paris, due to the pension reform, reduced the influx of tourists. There was even one day that the museum did not even open its doors, due to pickets, in the middle of an exhibition of Leonardo.
Next year it will be very difficult to draw up the traditional list of the most visited museums in the world, since in 2020 many of them will have a good season with their doors closed. The only option will be to see which art galleries have been the most visited online.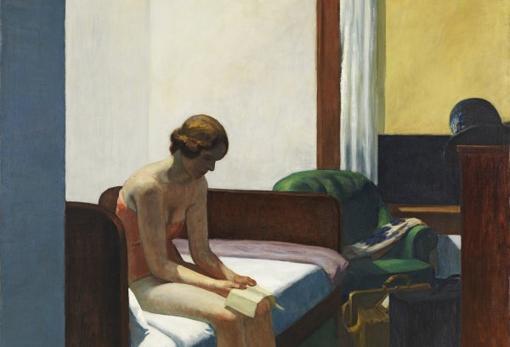 Have we become Hopper's works?
Since the Covid-19 sent us half a planet straight home, the painting by the American artist Edward Hopper It has gone viral on social media. He has always had legions of fans, true, but he has never been talked about as much on the internet as now. The reason? A writer from New Orleans, Michael TisserandHe wrote a message on his Twitter account: "We are all paintings by Edward Hopper now", accompanied by four works by the artist. It went viral. Many of his paintings feature solitary, melancholic, thoughtful and even alienated characters, either in some of the city's "diners", or locked in hotel rooms. He is one of the most cinematographic painters. His paintings resemble stills from a film.
Reactions to the tweet were swift. The message in question was retweeted almost 70,000 times and has more than 220,000 likes. Even the prestigious art critic Jonathan Jones published an extensive essay in The Guardian. "If we really are all Hopper paintings now, a crisis of loneliness would be one of the hardest social consequences of Covid-19. Loss of direct human contact can be catastrophic. We choose modern solitude because we want to be free. But now Hopper's art poses a difficult question: When freedoms are removed from modern life, what is left but loneliness? Jones wonders. It's scary to think about it.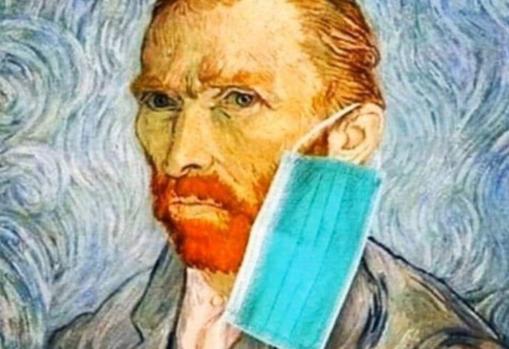 Van Gogh: thieves are not confined
Holland (sorry, the Netherlands is the custom) treasures great works of Van gogh, highly coveted by thieves, since they are always on the rise in the market. A few days ago one of his paintings, "Spring Garden, the Parish House of Nuenen", from 1884, was taken from the Singer Museum, in the city of Laren, The painting was a loan from another art gallery in the country, the Groninger museum. By chance or not, the robbery occurred on March 30, the day the painter's birthday was celebrated. Not even Van Gogh has been spared black humor on social media. Above these lines, he wears the mandatory mask, which hangs from his left ear. Recall that he lost the right at Arles. They say it was cut after a fight with Gauguin.
.