Volleyball players from Italy and Slovenia will compete in Sunday's final of the European Championship. In Katowice, a team that was an opponent of the Czech national team in the Ostrava basic group will sit on the throne. Last Wednesday, the Italians won 3: 0 over Slovenia and will strive for the seventh title, the first since 2005. Slovenia's maximum is two silver medals.
Today, the Slovenians first defeated the reigning two-time world champions Poles 3: 1, just like two years ago in the same phase of the European Championships. Overall, they were stopped in the elimination phase at the fourth Euro in a row. The thrilling battle in the Spodek hall was created by more than ten thousand fans and was led by the Czech judge Vlastimil Kovář.
The Slovenian team, which lost to the Czech national team at the beginning of the championship and then stopped it in the quarterfinals, defeated Poland at home in Ljubljana at the 2019 Euro in the semifinals. This time, the stormy Katowice audience did not help the Polish volleyball players either. They won only the first set 25:17, in the second they dropped six sets and in the fourth set they deflected nine matchballs.
Chairman of the Czech Volleyball Association Pakosta: He did not expect such a high number of visitors in Ostrava
Slovenian charges of Italian Albert Giuliani improved the reception from the second set, so they could attack better and also managed to defend themselves on the net. They also benefited from the rotation of recorders, instead of Dejan Vinčič, Gregor Ropret, the former champion of the extra league with Karlovy Vary, got a chance.
The last set lasted an hour and was interrupted several times in the end, as both coaches took the challenge. The Slovenians had to wait long minutes to advance to the finals.
The young Italian team subsequently also lost the Serbs 3: 1, only nineteen-year-old Alessandro Michieletto contributed 23 points.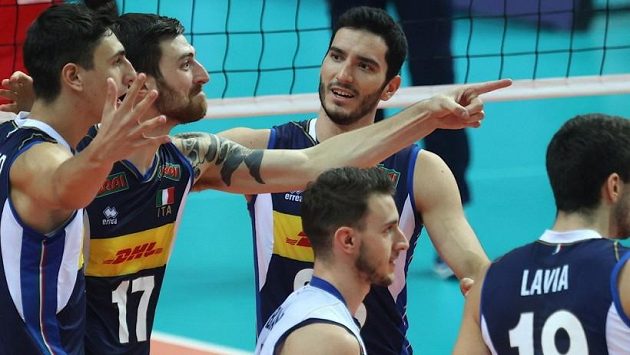 Italian volleyball players will play for the European Championship for the title
Profimedia.cz
European Volleyball Championship – semifinals in Katowice:
Poland – Slovenia 1: 3 (17, -30, -16, -35)
Italy – Serbia 3: 1 (27, 22, -23, 18)
.