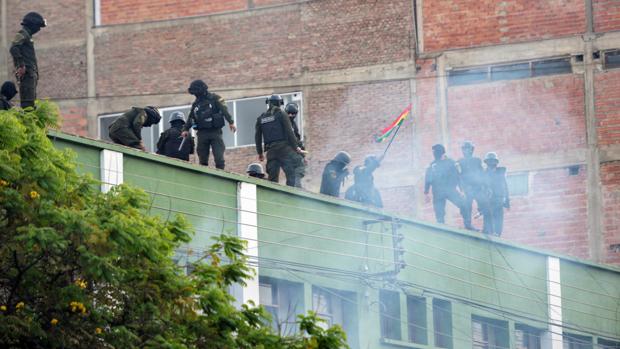 Police from Bolivia have mutinied this Friday in the cities of Cochabamba, Sucre, Tarija and Santa Cruz to protest against the Government of Evo Morales and avoid further clashes in the country in the context of the protests that occur against re-election of Morales.
The police riot has begun in Cochabamba, in the Tactical Unit of Police Operations and, subsequently, has been extended to other units, according to the newspaper "La Razón Digital". The decision of the security forces has been received with joy by hundreds of protesters demanding the resignation of Morales.
He later replied in Sucre, where "La Razón" has found that some 700 troops had concentrated. According to the newspaper, one of the policemen who has headed the measure has stated that the goal is to "avoid more confrontations in the country."
As for Tarija, several policemen have bet waving Bolivian flags. In Santa Cruz, another group of mutinous policemen have spread a sign in which he can read "Police Mutiny" at the top of the building of the Departmental Command of the city. In addition, citizen pressure for police officers to join the riot is increasing in other areas, such as in La Paz, Trinidad or Riberalta.
For its part, the General Command of the Bolivian Police has clarified that the police are "quartered and not mutiny." "It is clarified to civil society that police officers are quartered and not mutinous as indicated by some media outlets," according to a police statement collected by the Bolivian news agency, ABI.
The Government of Bolivia said Friday that it does not plan to mobilize the Armed Forces, after the riots of the Police in various parts of the country against the Executive of Evo Morales.
The Bolivian Minister of Defense, Javier Zavaleta, told the media in La Paz that President Morales, who constitutionally is the captain general of the Armed Forces, gave orders so that the military does not take to the streets.
"No military will take to the streets of any city in the country," said Zavaleta, who acknowledged that there was a police riot in the city of Cochabamba and called "rumors" similar uprisings that have been reported in other parts of the country. Zavaleta hoped that the general commander of the Bolivian Police, Yuri Calderón, would "reflect" on the uniformed rioters.
The head of Defense asked for calm to "not generate chaos" in the country, because "there will be no military operation at this time." .