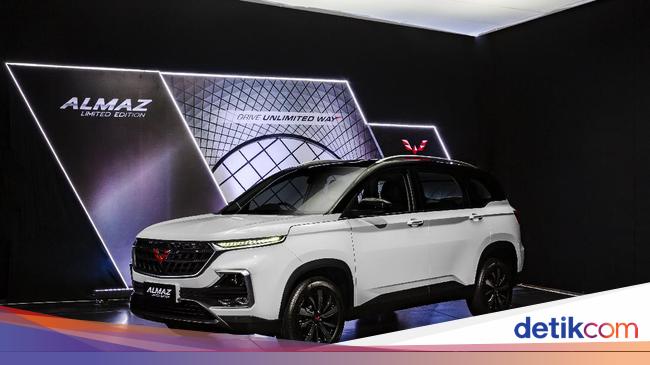 Jakarta
–
Wuling Almaz RS is confirmed to launch in March 2021. Leaks of the type and price of Wuling Almaz RS have also begun to circulate a lot on social media. According to a statement from a Wuling dealer in Jakarta, the price of this compact SUV is no more than Rp. 400 million. What is the complete info like?
Wuling Motors will introduce its newest SUV product, which is the latest variant of Almaz. The new Almaz model itself has just been introduced at the end of 2020, with the Almaz Limited Edition label which is limited to 100 units.
One of the Wuling dealer salespeople in Jakarta confirmed that the latest Almaz variant will be introduced in March 2021. "Expected to launch at the end of this month," said the salesman, who did not want to be named.
He said that potential consumers of Wuling Almaz RS can pre-order at this time. He also said that Wuling Almaz RS would be offered in 6 types of options and prices.
The following leaks the types and prices of Wuling Almaz RS, with status on the road in Jakarta:
Almaz RS 1.5 T EX (5 seats) : Rp 369.800.000
Almaz RS 1.5 T EX + (5 seats) : Rp 377.800.000
Almaz RS 1.5 T EX (7 seats) : Rp 379.800.000
Almaz RS 1.5 T EX + (7 seats) : Rp 387.800.000
Almaz RS 1.5 T PRO (Ring17″) : Rp 397.800.000
Almaz RS 1.5 T PRO (Ring18″) : Rp 399.800.000
For information, Wuling Almaz was first introduced in 2019, with the tagline 'Drive Unlimited Way'. One of the superior features of this car is the interactive voice command that is operated using everyday Indonesian, namely the Wuling Indonesian Command (WIND).
This technology allows users to turn on, turn off, or operate various vehicle features, from the air conditioning system, windows, panoramic sunroof, access to entertainment features such as music or radio, make phone calls, run applications such as Wuling Link or TPMS, to time and date information.
Watch Video "Wuling Presents Almaz RS, an SUV with a Myriad of Sophisticated Features"
[Gambas:Video 20detik]
(take / from)
.