In many areas, health facilities are failing to recruit the staff they need. In the hospitals of AP-HP, in Ile-de-France, 400 nurses are missing today.
Subscribers article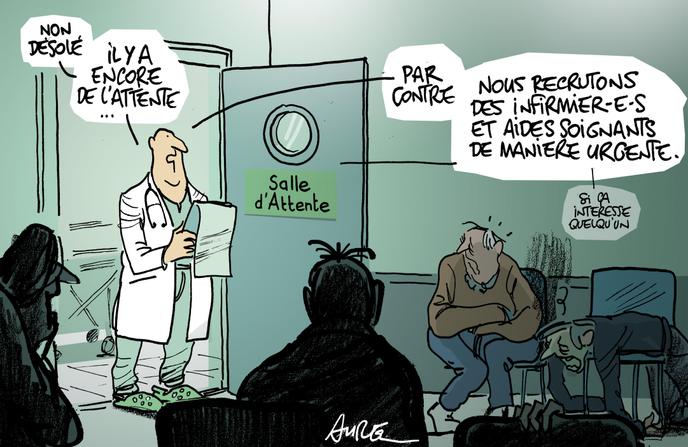 Disaffection for care professions deemed back-breaking and poorly paid, cost of living in Ile-de-France, competition from neighboring countries … For various reasons, for several months, in several regions, public hospitals have been struggling to recruit nurses in France. general care or nursing assistants. These difficulties are in addition to those that have existed for a long time to hire masseurs-physiotherapists, electroradiology-medical manipulators or nurse anesthetists or operating theaters. "We do not have a warning of a major shortage but we have signals of difficulties that we did not have before"explains the Federation Hospitalière de France (FHF), the structure that represents public hospitals.
The first to be affected by these difficulties: the 39 establishments – most of them in the Paris region – of the Assistance Publique-Hôpitaux de Paris (AP-HP), the largest hospital group in the country. "We see the recruitment curve widening since the beginning of the year and today, there are 400 nurses, or about 3% of the FDI workforce. (State registered nurses) to the AP-HP, that we would like to recruit and that we can not find », alert Sylvain Ducroz, the director of human resources. This is a culmination at a time when the management has committed to recruiting 61 additional caregivers in its twenty-five emergency services on strike, and to systematically replace all maternity leave to better cope with the continued rise in attendance.
"Two or three years ago, there was no such tension to recruit. The phenomenon, which had already been observed in the 2000s, seems at its beginning, believes Serge Morel, the director of a structure encompassing Parisian establishments as prestigious as Necker, Cochin or the Georges Pompidou European Hospital (HEGP). In some hospitals, up to 30 positions are vacant, mainly in geriatric medicine and general medicine. "We are mobilizing to attract new trainees who are going out of school in July, I am hopeful that we will get there"says Morel.
Vacancies in geriatrics and general medicine
The problem was considered serious enough to be raised in AP-HP's supervisory board on April 19th. "Difficulties in recruiting certain categories of medical and healthcare personnel inevitably complicate the operation of services and the achievement of activity objectives", reads the minutes of this meeting.