Founded in 2016 by two Kashmiris, a Hindu and a Muslim, the football club has quickly chained success, much to the delight of the people of this territory disputed by Pakistan and India since 1947.
PMany football clubs can also claim to be one of the few sources of jubilation in the daily lives of their fans. This is the case of Real Kashmir FC, a club born three years ago in a region marked by seven decades of constant clashes and tensions between India and Pakistan. In its edition of Thursday, August 22, the British daily The Guardian tells his dazzling epic.
In 2016, Sandeep Chattoo, a Kashmiri Hindu, was talking to his Muslim friend Shamim Mehraj about the pervasive violence that is sweeping through Jammu and Kashmir, a largely Indian-controlled Muslim region that Pakistan claims. The strong presence of the Delhi troops in Indian Kashmir – half a million soldiers outside periods of insurrection – particularly annoys the young Kashmiris, who throw stones at the soldiers shouting"Azadi" (freedom).
Replica soldiers are sometimes deadly. Sandeep Chattoo and Shamim Mehraj decide to buy a hundred footballs and distribute them to the neighborhood boys. "We knew they needed an outlet. We wanted them to play football instead of throwing stones. We wanted to inspire them to build a better life », explains the first at Guardian.
Read:
Kashmir, a sensitive geopolitical area
An "act of hope"
Soon a team is born. She is making her first season in 2016, in Indian second division, before an average of 600 spectators per match. In January 2017, Scottish coach David Robertson takes the lead. Real Kashmir finishes first of the second division in 2018, thus reaching the first division which he finishes third of the championship the following year, in front of teams even more seasoned.
"Real Kashmir is more than football, Chattoo analysis. It's an act of hope. " The players themselves, mostly Indian but of various faiths, show that an agreement between the communities is possible … even if it requires some organizational efforts, David Robertson laughs at the British public channel BBC Scotland:
"Some pray, but at different times according to their religion, others are vegetarians, so it's always difficult to talk to them about a proper diet at a time when everyone is present. (…) But now, this team is my family. I'm building something new here. "
The popular fervor is there: in recent months, more than 20,000 people regularly fill the stadium of downtown Srinagar, the main city of Jammu and Kashmir. Thousands of people also listen from the outside, the roars of the stadium that is refueling each meeting. Some protests have been canceled for a match. For during the ninety minutes of the game, Kashmiris forget curfews and temporarily taste a normal life.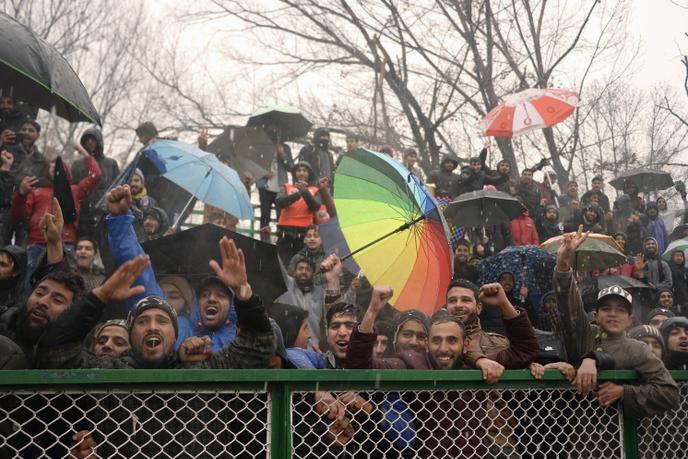 " It's inhumane "
Since August 5 and the decision by India to revoke the autonomy enjoyed by Jammu and Kashmir, things are getting more complicated for the population – including players. New Delhi cut off all means of communication and put in place curfews strictly enforced by its security forces, joined by 80,000 additional paramilitaries for the occasion.
Before every game outside, defender Mohammed Hammad used to call his mother, who lives in Srinagar, to ask him to pray for his team. But this Saturday August 17, when Real Kashmir played against Goa FC near Calcutta, he did not call his mother. "Because of the blocking of communications, I could not reach her. Like everyone else, she is locked in her house. And I do not even know if my family has enough food and medicine, " worries Hammad at the Guardian.
Read:
"Kashmir's main conflict pits Indian government against people"
Khalid Qayoom, a midfielder at Real Kashmir, regrets the introduction of strict curfews. His parents could not even watch his last games. "They should have gone to see someone else, they do not have TV. But my father was afraid to go beyond curfew. None of us are happy with what is happening in Kashmir. It's inhumane. But we are professionals and we will not let our concentration suffer. "said Qayoom.
On August 17, their team finally won the draw, which led them to the semi-finals of the Durand Cup, India's oldest football tournament, where it finally lost to Mohun Bagan on the 22nd. August.
Beyond this honorable defeat, the team drew attention, first Adidas, who signed with Real Kashmir in 2018 his first partnership with a club of the Indian League, but also cultural industries. According to Guardian, Netflix is ​​currently working on a movie about the team. Ditto for Bollywood. The opportunity to show the "true Kashmir", united and determined, through the fate of the football team that bears his name?