Beforehand, most focus was on the men's class in Hytteplanmila Record Hunt 2020 where Zerei Kbrom Mezngi had announced a record attempt at the Norwegian best listing and where there were at least high expectations when Filip and Jakob Ingebrigtsen announced the day before the race that they would come – and that they came to run fast.
But, on a day where the Ingebrigtsen brothers did not have the day, there was a victory for Zerei in the men's class at 28:20, ahead of the training comrade of the Ingebrigtseng boys, Narve Gilje Nordås.
Superb 30:32 by Karoline Bjerkeli Grøvdal
In the field that started 1 minute behind the best men, we got the most impressive race of the day; Karoline Bjerkeli Grøvdal ran offensively all the way, and Kristian Ulriksen who referred to the race for Direktesport repeated for each kilometer pass "if the time is right …" because it went really fast for Karoline who after 2:58 and 2:59 on the first two kilometers stabilized at 3: 04 / km the rest of the way to the finish.
Thus, Karoline Bjerkeli Grøvdal set an impressive Norwegian best record of 30:32, just 11 seconds behind Paula Radcliffe's European record, and 27 seconds faster than Ingrid Kristiansen's previous best record. There were probably not many who had expected, although she has shown brilliant form lately.
The track record of Karoline Bjerkeli Grøvdal (31.25) from 2017 was broken by almost one minute, the same can be said about the Norwegian best record that belonged to Ingrid Kristiansen with 30.59 from Boston in 1989. Karoline's race was actually the fastest of a European woman since British Paula Radcliffe set a European record with 30.21 in 2003. Only 12 seconds were needed for a new record
Karoline reaches out at 7 km with Magnus Liljeberg Wang behind her. (Photo: Kjell Vigestad)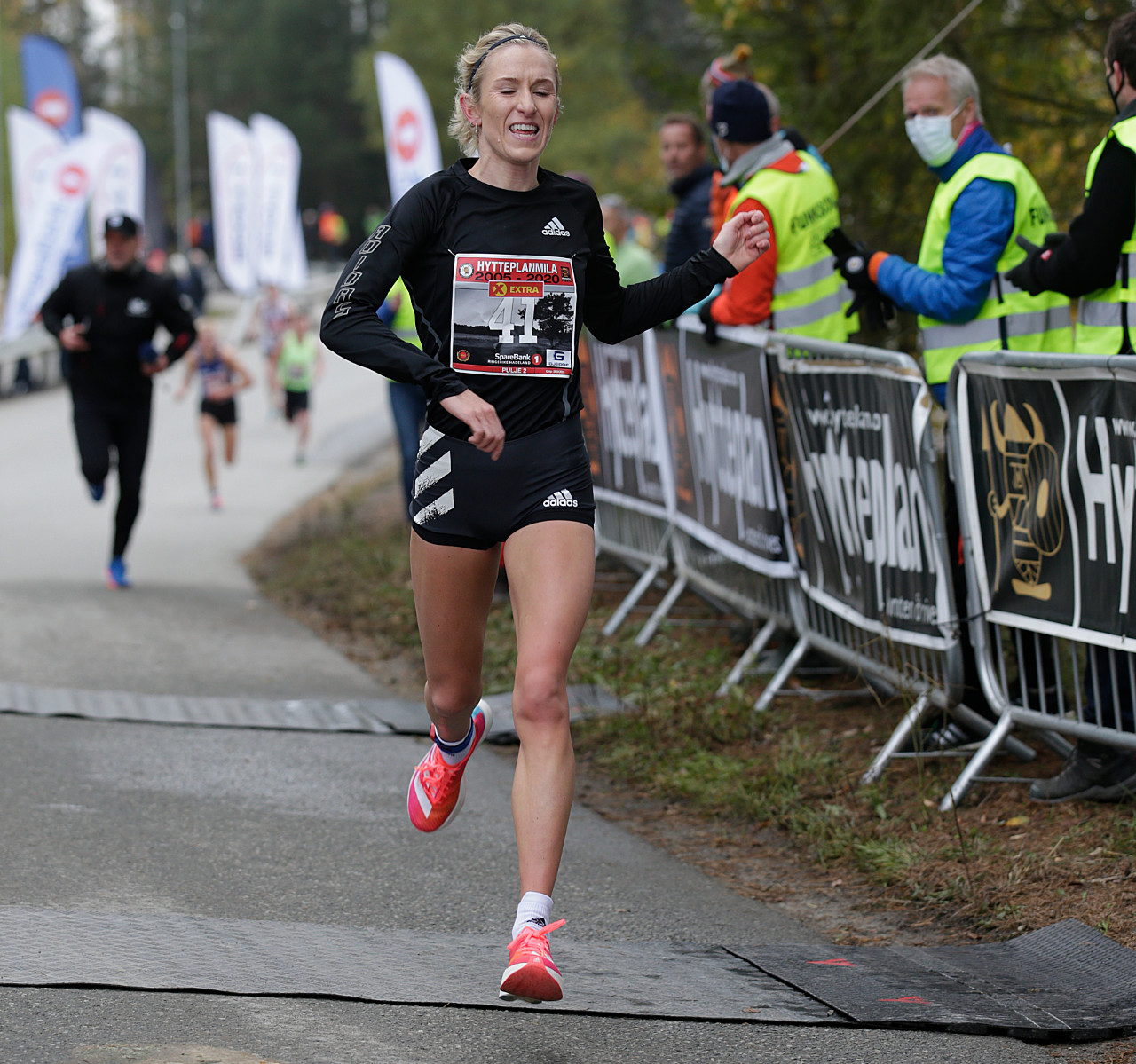 Karoline runs to the finish line for a clear Norwegian best record of 10 km for women. (Photo: Per Inge Østmoen)
Almost like a victory
The closest to Karoline was Vienna Søyland Dahle with 33:18 and Kristine Eikrem Engeset with 33:23 from a later pool. Vienna and Kristin were mostly together the whole race (although the intermediate times in the results overview show something else), but after a strong finish, the Skjalg runner could ask for 2nd place five seconds ahead of Kristine and 31 seconds ahead of Hanne Mjøen Maridal in 4th place . Vienna, which ran Hytteplanmila in 33:57 last year, thus improved its time by 39 seconds.
– I'm not sure how many we were, as I never turn around along the way – but Maria, Kristine, Hanne and I were at least gathered to approx. 7km. Then I noticed that they let go, and told Kristine that now we can drive on and get a hatch, Vienna says to kondis.no and tell what happened next: – Kristine came forward and began a kind of long sprint when passing 9 km. Then we ran side by side to just before the last hill, then I left.
– This is actually experienced as a victory, Vienna answers when we ask about the distance up to Karoline
– She is absolutely superb, and there is a big battle for space behind her. Insanely impressive of Karoline today – really cool, says Vienna who is now taking a season break.
-I will run Sandnesløpet next weekend, but it's just too much fun, and because I promised Geir Eikeskog (leader of Sandnes IL, red note) that I would run. Goals for next season are sub16 at 5 km, sub 33 at 10 km and sub 1:13 at the half marathon, says Skjalgløperen who with his 28 years has many years left on the athletics track.
– Then I am incredibly excited about what the world will look like in 2021 in terms of races and competitions, Vienna concludes.
Strong 16-year-olds
There were 10 Norwegian women who ran under 35 minutes, three of them in class K16-17. Ina Halle Haugen was number 7 with 34:11, 20 seconds ahead of twin sister Maren and 23 seconds ahead of Anne Marie Sirevåg Nordengen. The twins turn 17 in November, while Anne Marie is six months younger and has another year left in the age group. Ina's time is a new class record for Girls 16-17, five seconds better than Emma Kirkeberg Mørk's age record from last year.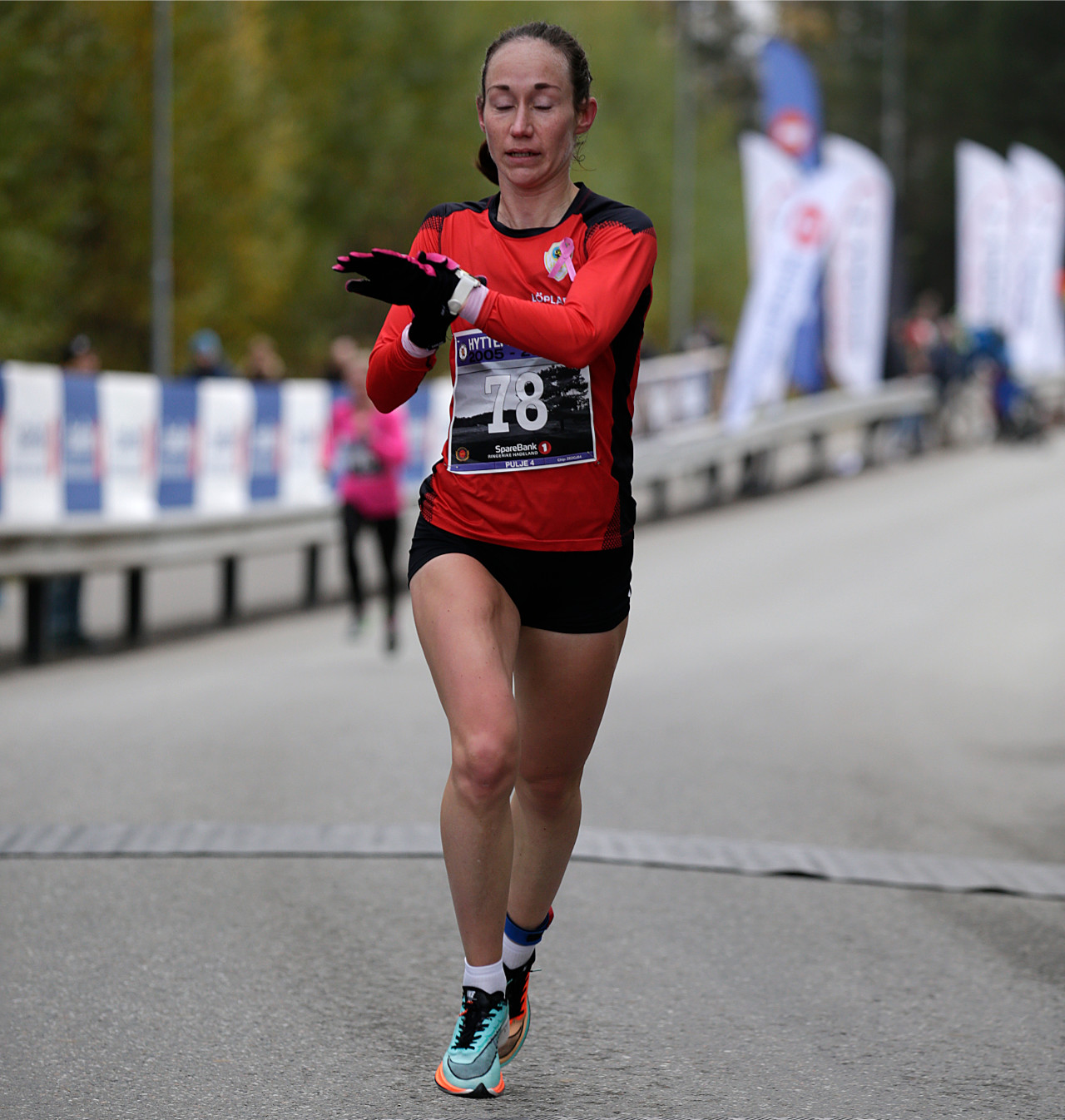 Vienna Søyland Dahle came second in the women's class. (Photo: Per Inge Østmoen)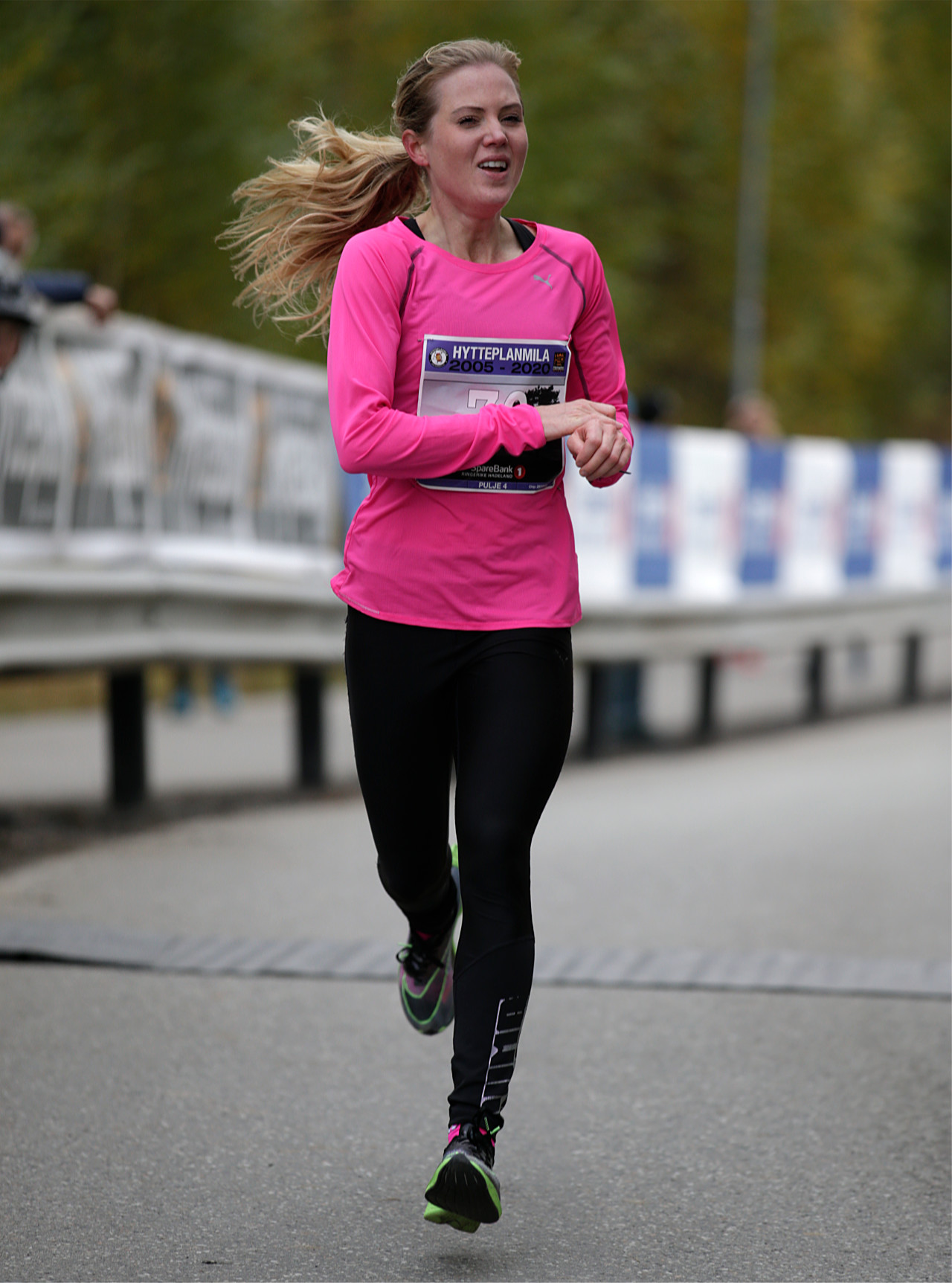 Kristine Eikrem Engeset came in 3rd place. (Photo: Per Inge Østmoen)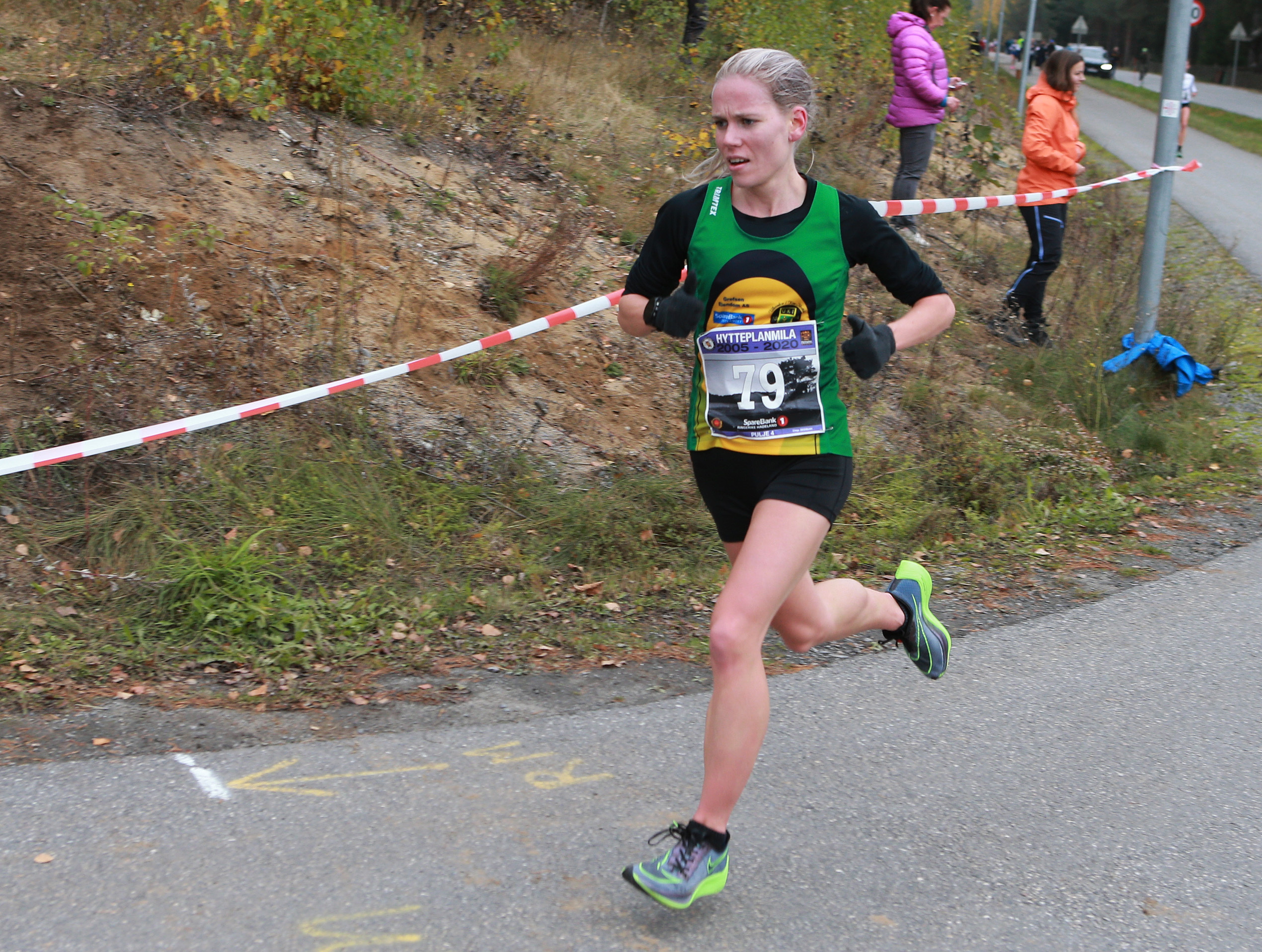 Hanne Mjøen Maridal came in 4th place. (Photo: Kjell Vigestad)
The 10 fastest in the women's class: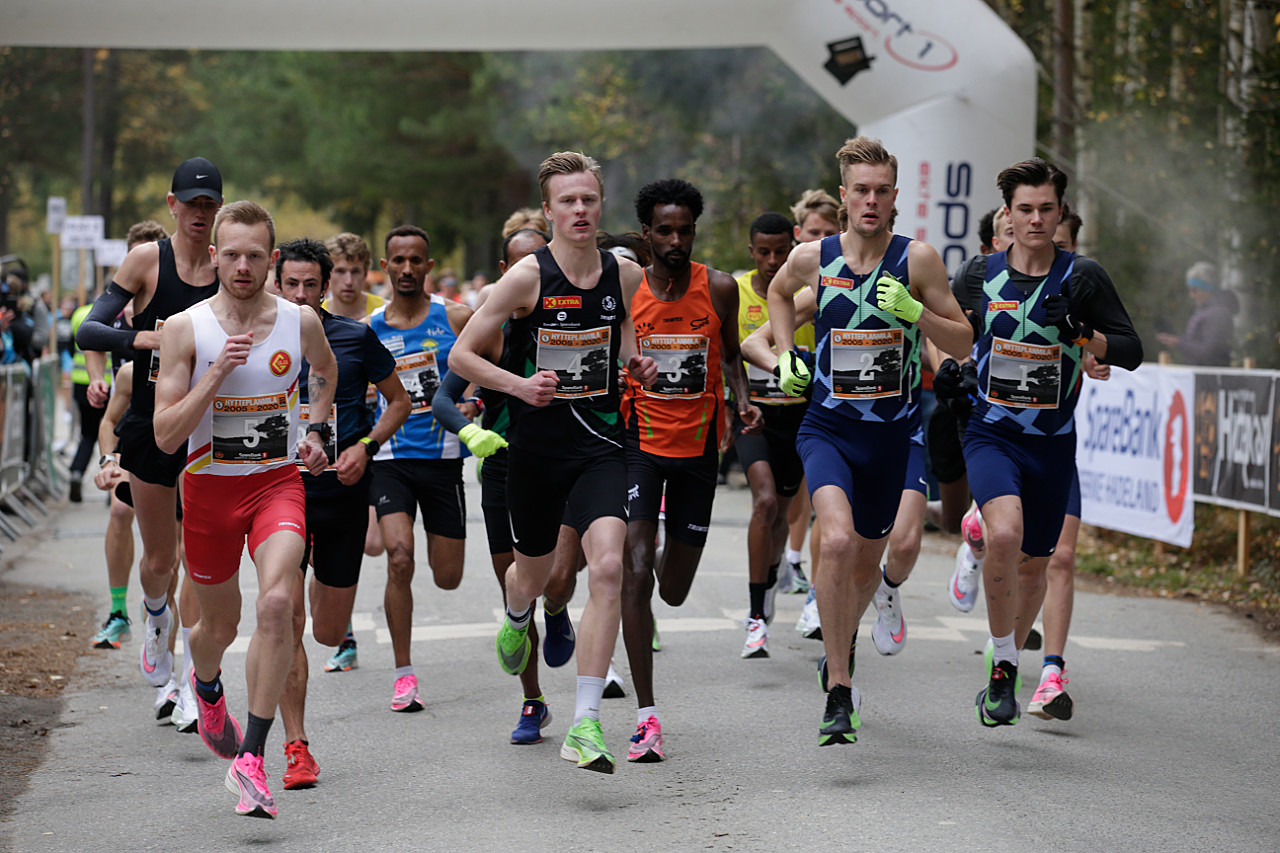 The start with the 25 best seeded runners. (Photo: Per Inge Østmoen)
Offensive Zerei Kbrom Mezngi won men's classes
Early in the day's race, it became clear that there was no attempt to beat the European record in the men's class, but the opportunity to beat last year's Norwegian best record lived halfway, even though one had Jacob's strong finish from last year in mind. It also turned out that it was too tough, and Jakob Ingebrigtsen 27.54 from Hytteplanmila last year survived by a good margin, Jakob who with start number 1 jogged in as system man at 35:05.
Halfway through the race, Zerei Kbrom Mezngi got a hatch for Jakob and Filip Ingebrigtsen, and that hatch was never closed. Even though it was not the Norwegian best record, it was a strong race by Zerei who won in 28:20. Closest followed a Sandnesl opener, but not an Ingebrigtsen. It was Narve Gilje Nordås who ran the last kilometers the fastest, and 14 seconds behind after 7 km became 8 seconds in the finish and clear 2nd place. Bjørnar Lillefosse took the last podium place with 28:45, while Filip Ingebrigtsen was number 6 in 29:03.
Three age records
In an impressive 8th place we find Runar's 17-year-old Abdullahi Dahir Rabi who ran in 29:17, and improved his own age record (29:33) in boys 16-17 years which he set at Jessheim earlier this year.
Further down the list, we find two even younger runners who set age records: Mikkel Bakken from SK Vidar ran in the time of 31.55 which is 7 seconds faster than Joakim Sødal's age record for Boys 14-15 years from 2012.
The biggest record improvement was 13-year-old Sondre Strande Omland from SK Vidar when he ran in 32:37, an improvement on Martin Kirkeberg Mørk's record (34:24) in Boys 12-13 from 2014 by almost two minutes.
Climbing specialists at 29:59 and 30:00
There were as many as 17 Norwegian men's runners in less than 30 minutes, and right behind these, the Spanish mountain king Kilian Jornet ran in until 29:59 in his debut in a competition context of 10 km flat. Anyone who reads the result list may think he defeated Gneist IL's Stian Øvergaard Aarvik – perhaps the best Norwegian mountain runner who came in at 30:00, but Stian started in group two and ran solo until clearly the best time from group two – same group as Karoline Bjerkeli Grøvdal ran in.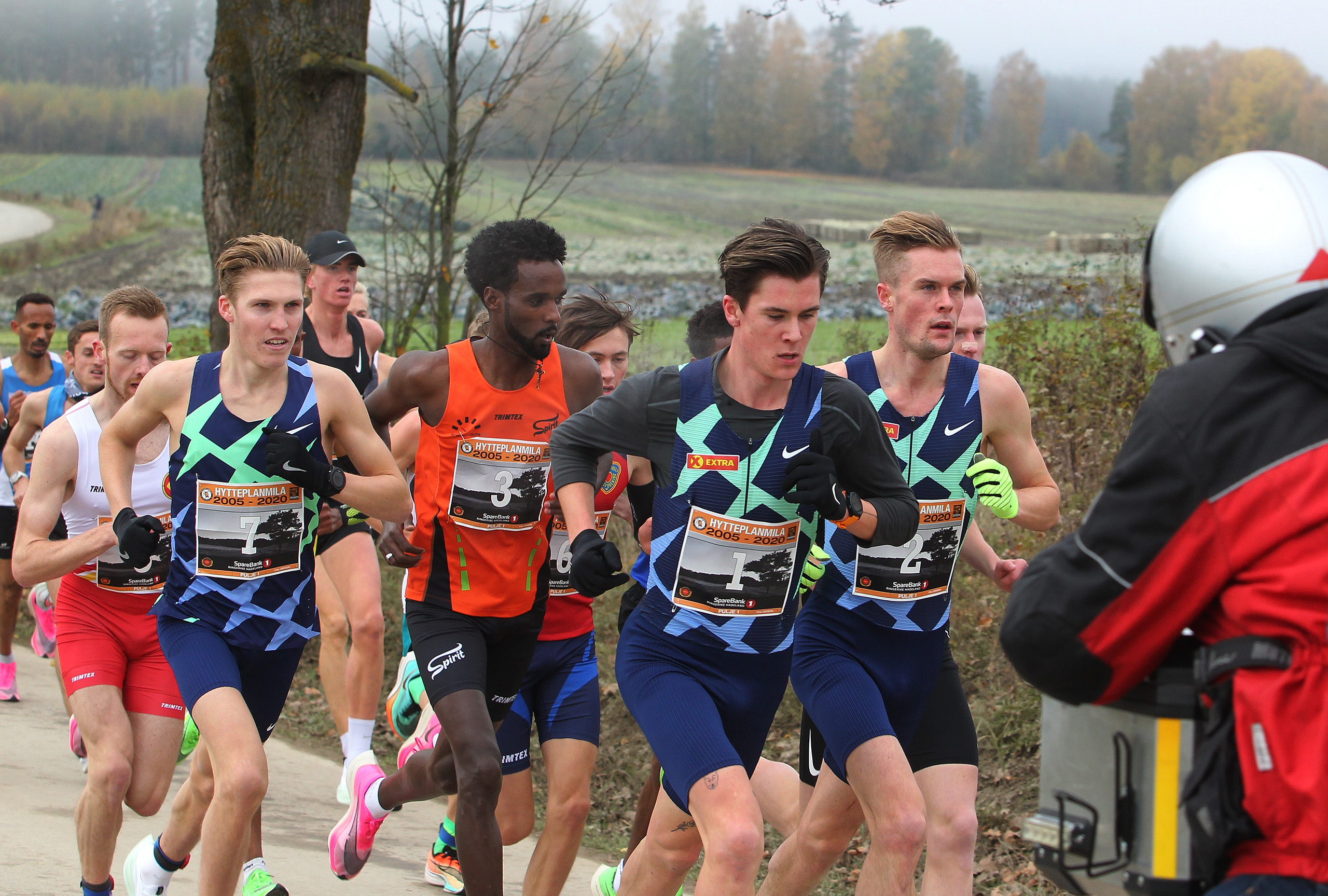 While the close group was still gathered behind the TV car for Direktesport. (Photo: Kjell Vigestad)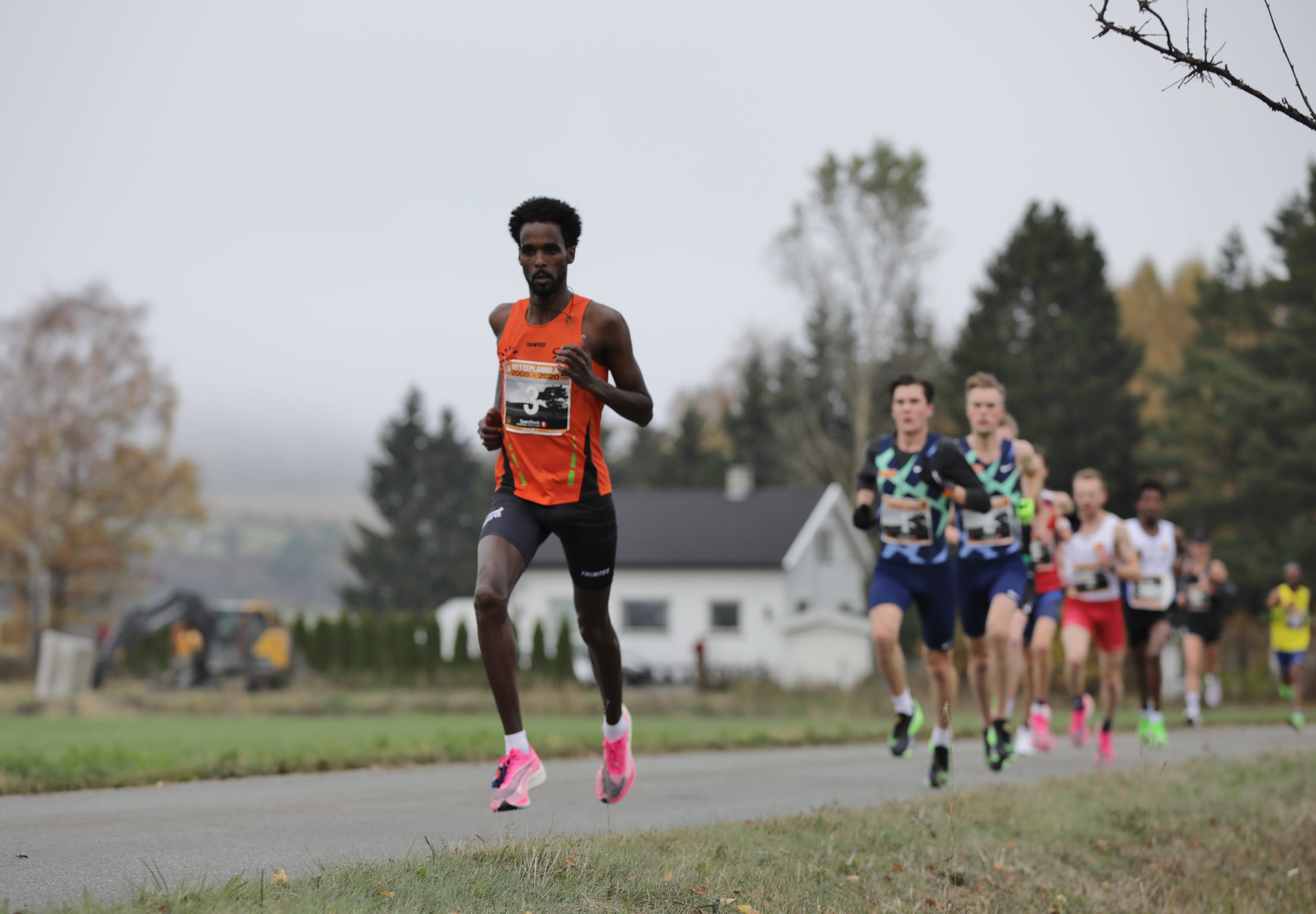 Here after 5.2 km, Zerei has got a hatch to the competitors that was never closed. (Photo: Bjørn Hytjanstorp).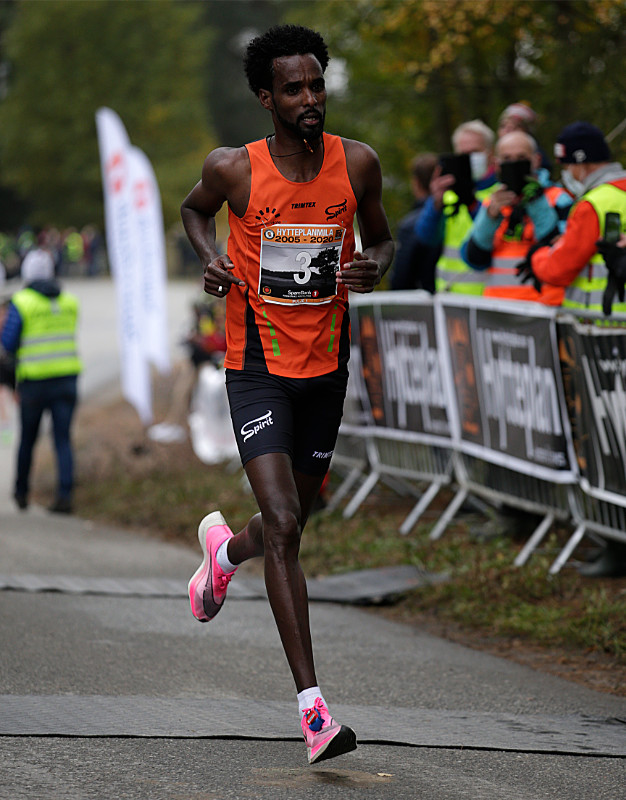 Zerei Kbrom Mzengi runs in to victory. (Photo: Per Inge Østmoen)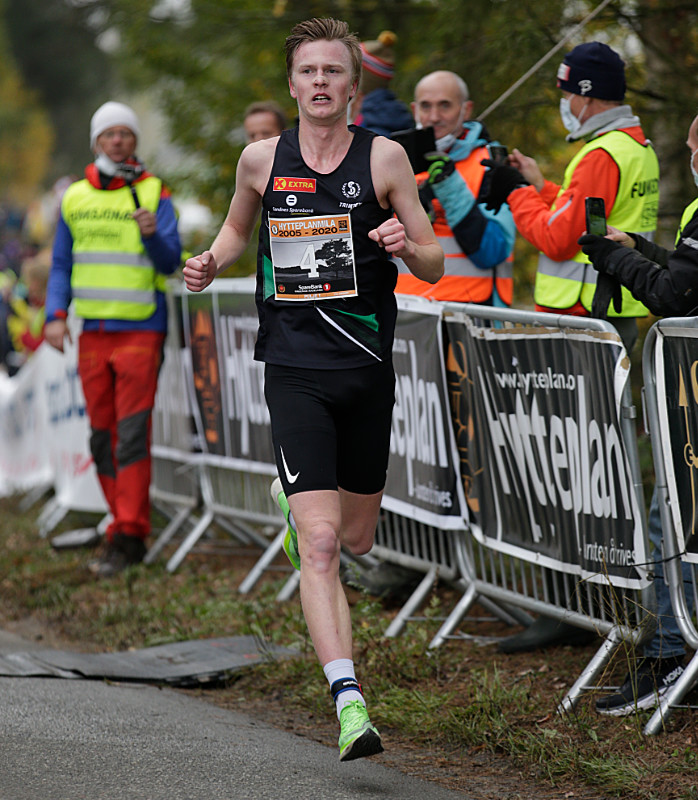 Narve Gilje Nordås runs into 2nd place and the best of the Sandnes runners. (Photo: Per Inge Østmoen)
Bjørnar Lillefosse ran into 3rd place in 28:45. One of 5 runners under 29 minutes, and new pers as far as we can find out. (Photo: Per Inge Østmoen)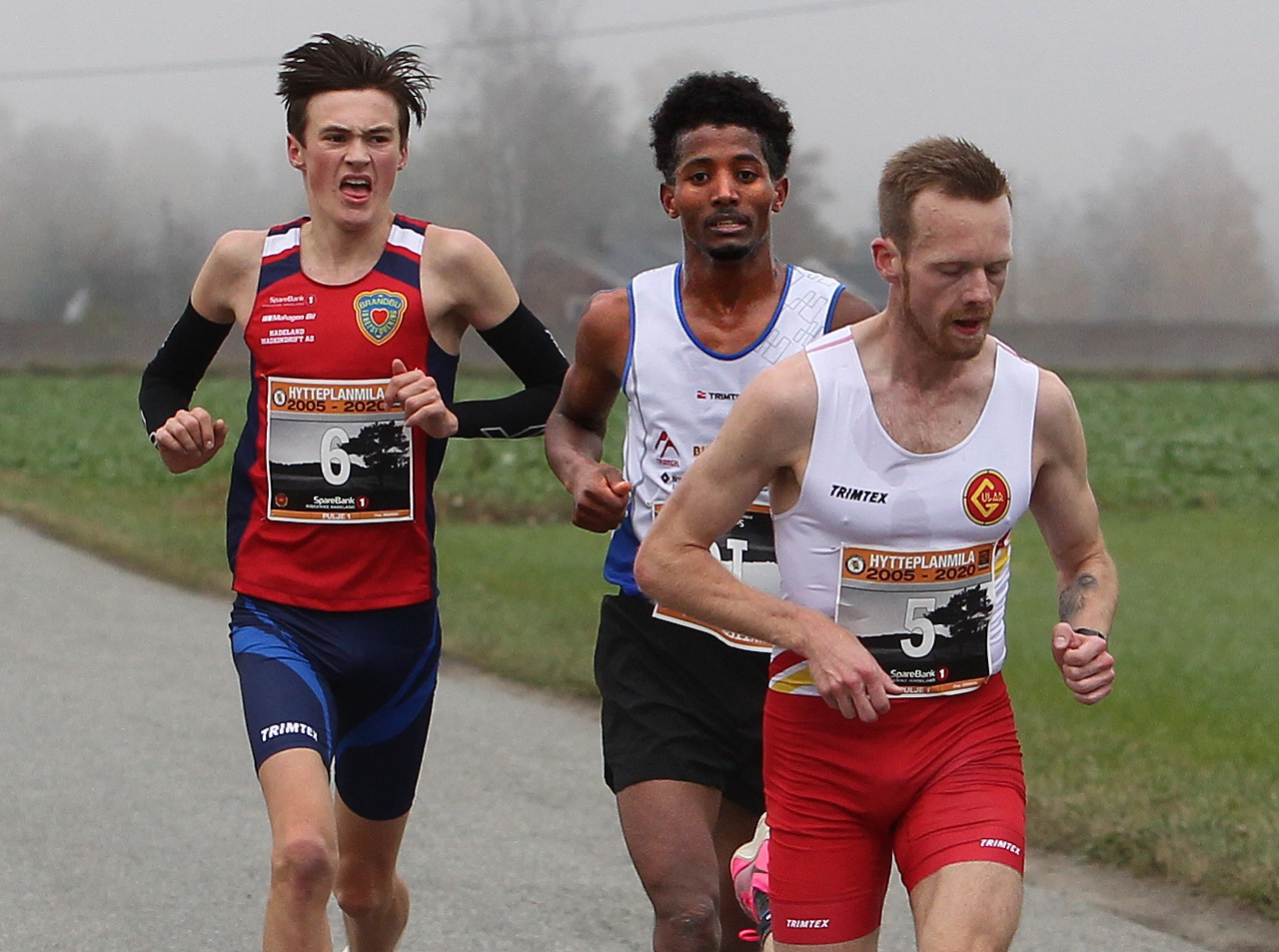 Magnus Tuv Myhre, Isaac Tesfamichael and Bjørnar Lillefosse after 7 km, they chase Filip Ingebrigtsen – who they all passed. (Photo: Kjell Vigestad)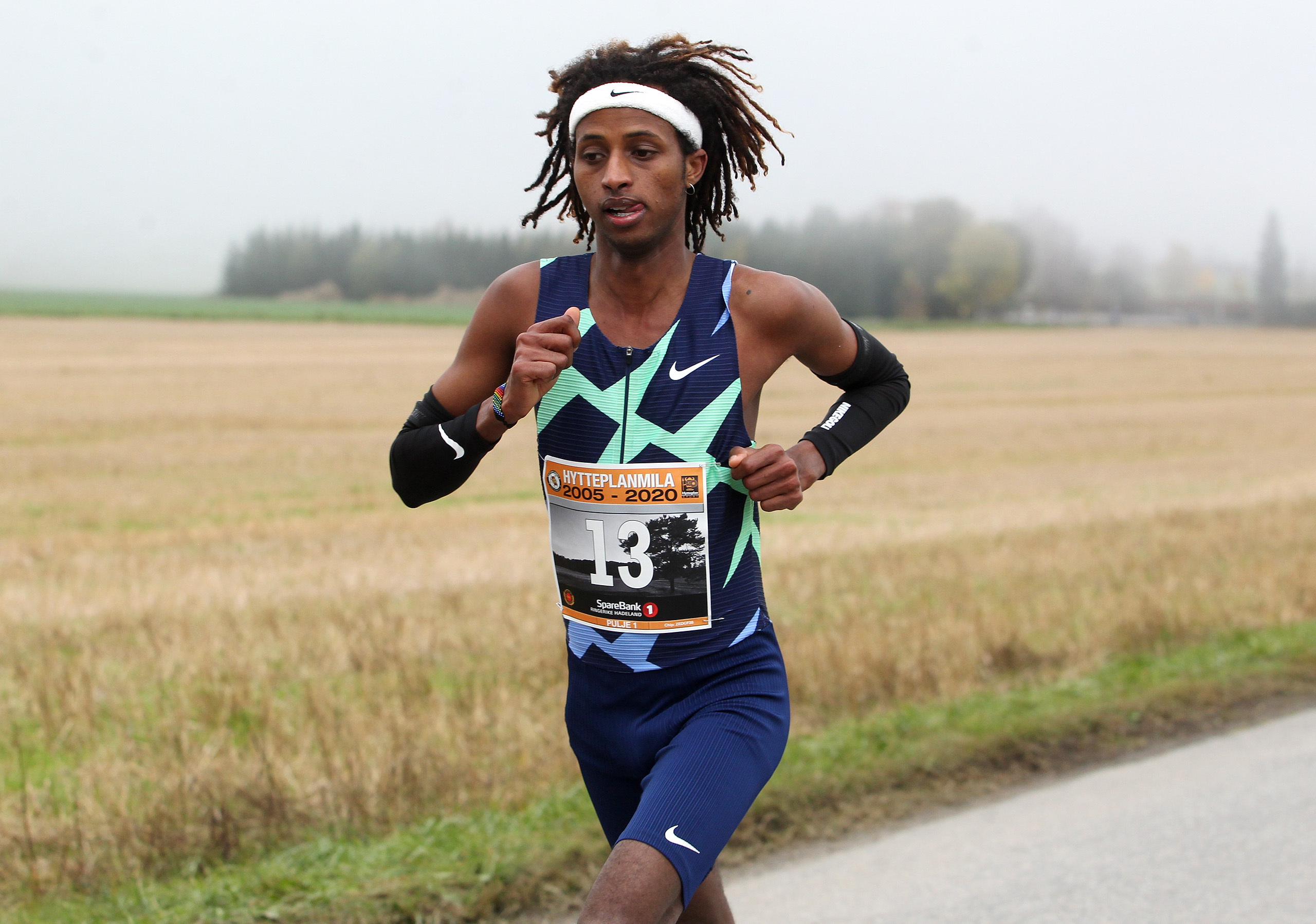 17-year-old Abdulla Dahir Rabi from Runar came in 8th place in 29.17, an improvement on his own class record from last year in 29.31. Before that, Sondre Notstad Moen had the record with 29.55. (Photo: Kjell Vigestad)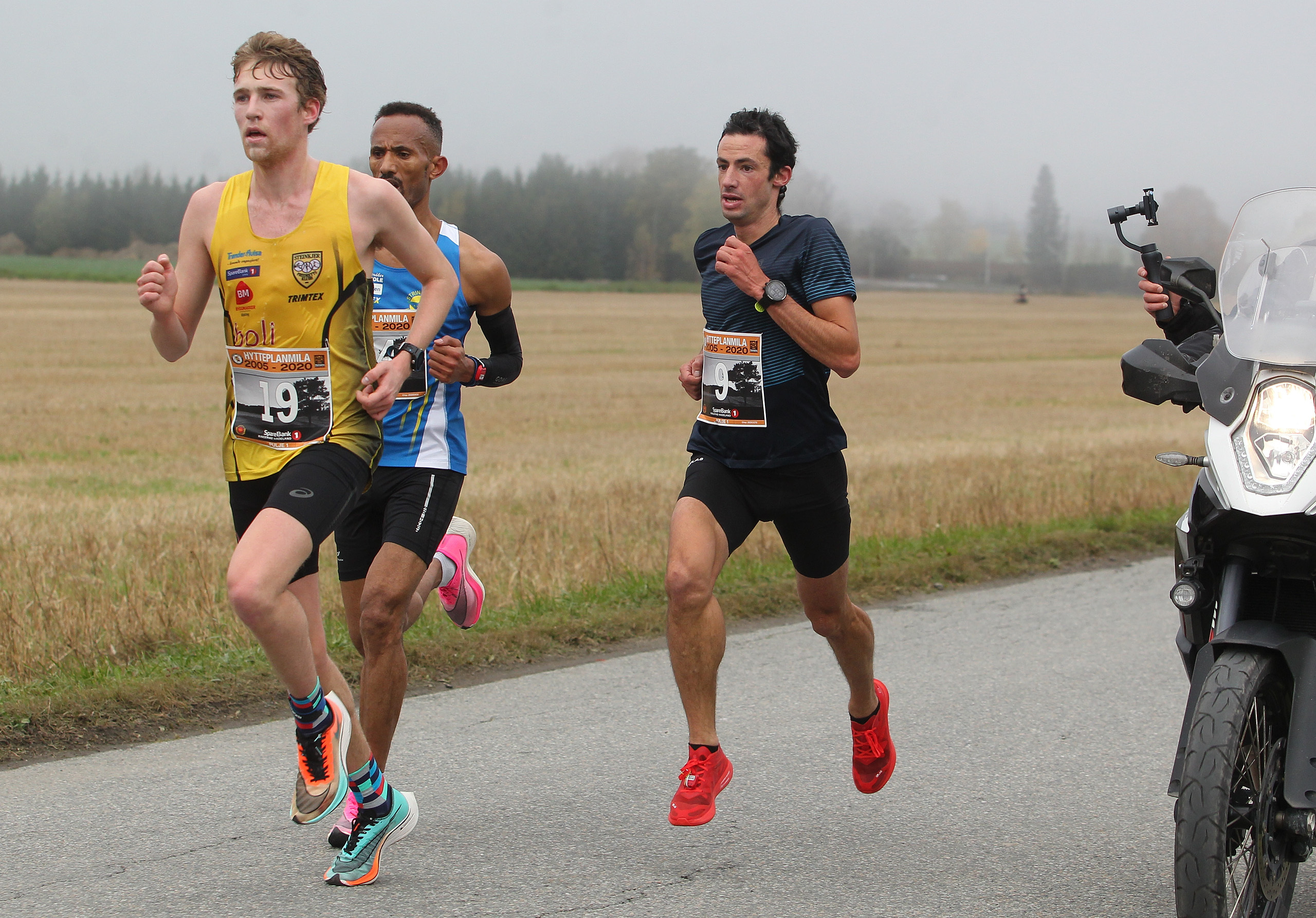 Mountain runner Kilian Jornet, who is behind Mathias Flak (29:54) and Ebrahim Abdulaziz (30:04), sprinted in for a while in just under 30 minutes; 29:59. (Photo: Kjell Vigestad)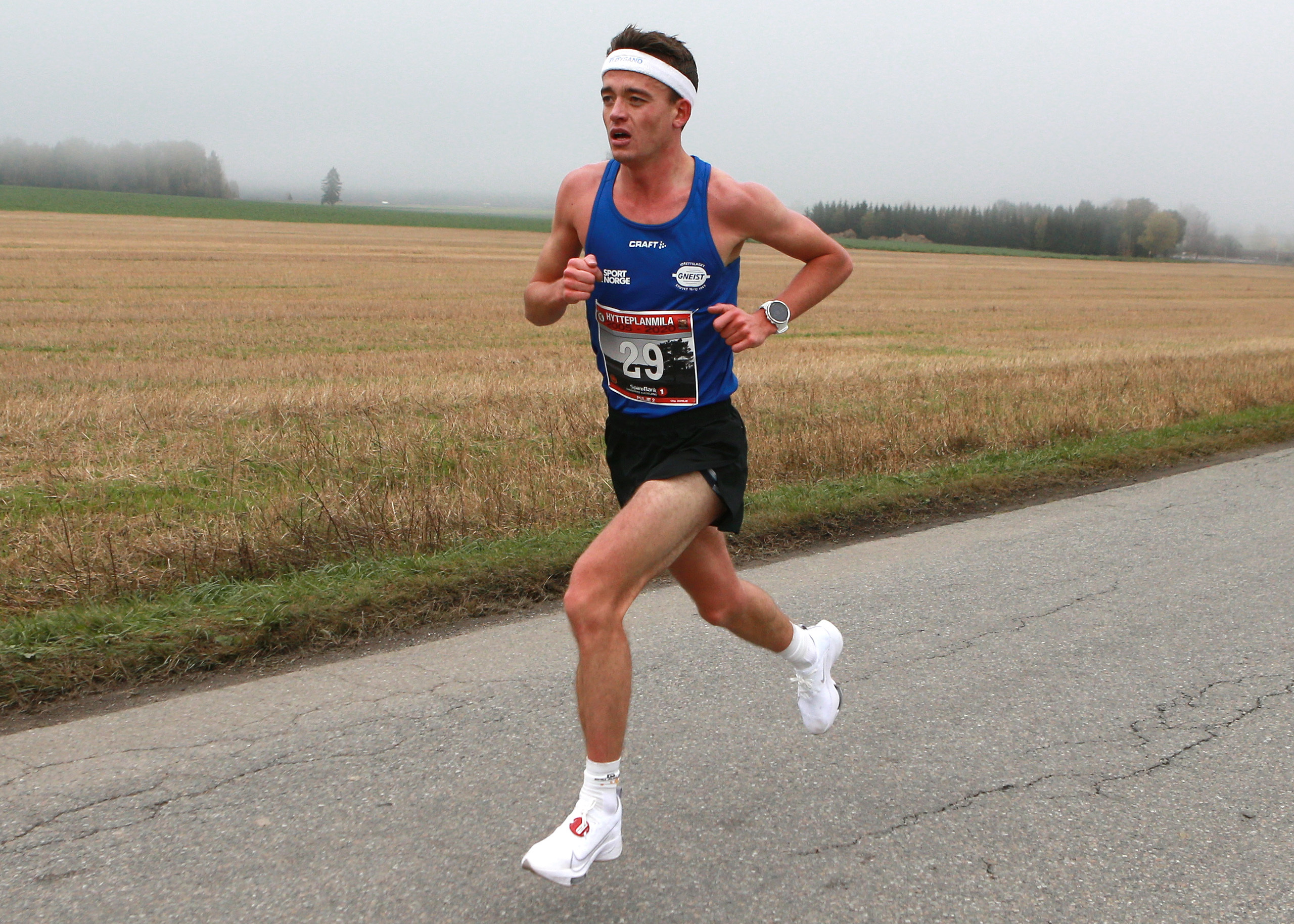 Downhill specialist Stian Øvergaard Aarvik did not get a duel with Kilian Jornet, since they started in different pools. It was 1 second apart, but there was no fight between them. In group two, it was a lonely race in the lead for Stian. (Photo: Kjell Vigestad)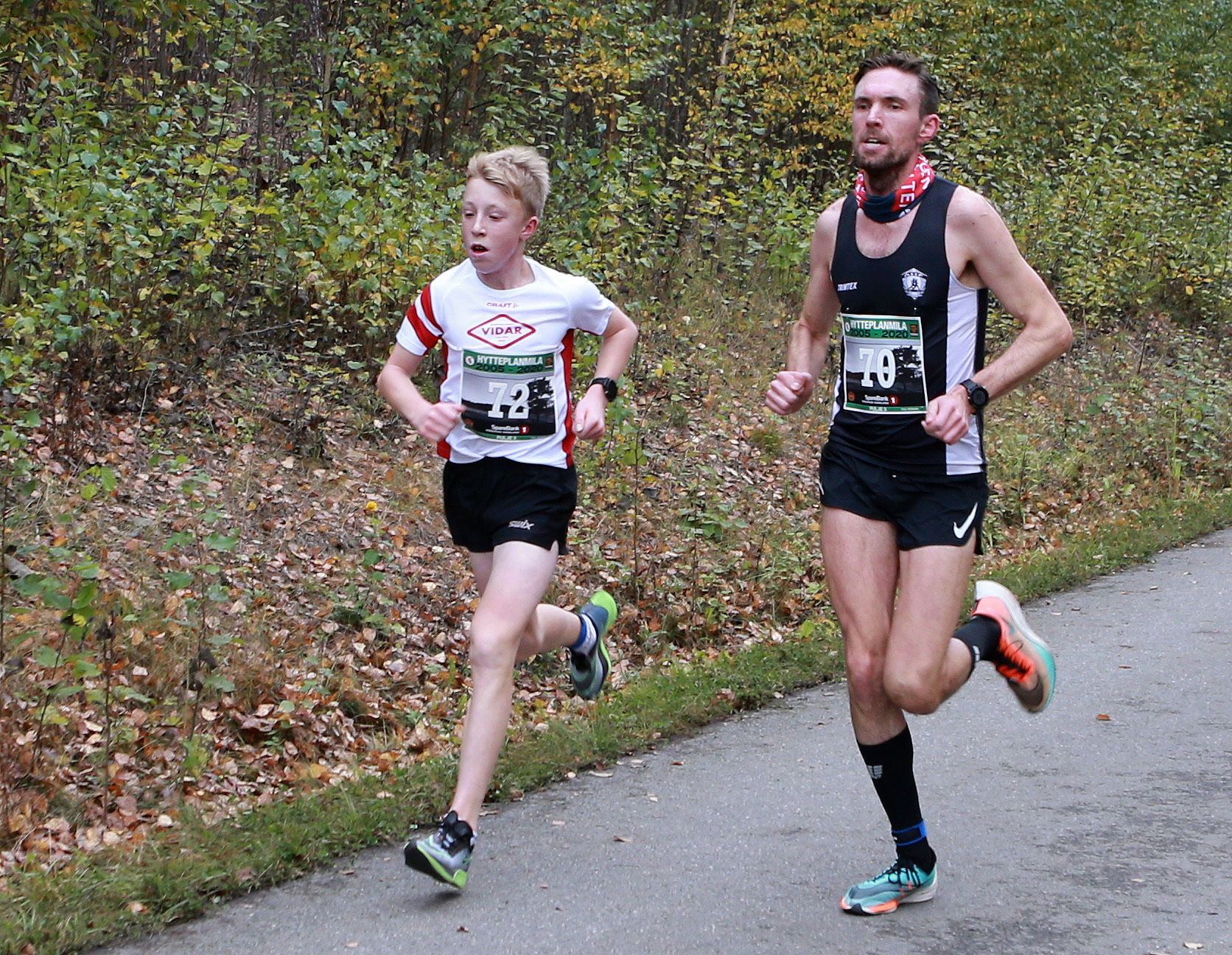 Sondre Strande Omland has 400 meters left to finish and a great age record in G12-13. (Photo: Kjell Vigestad)
The 20 fastest in the men's class: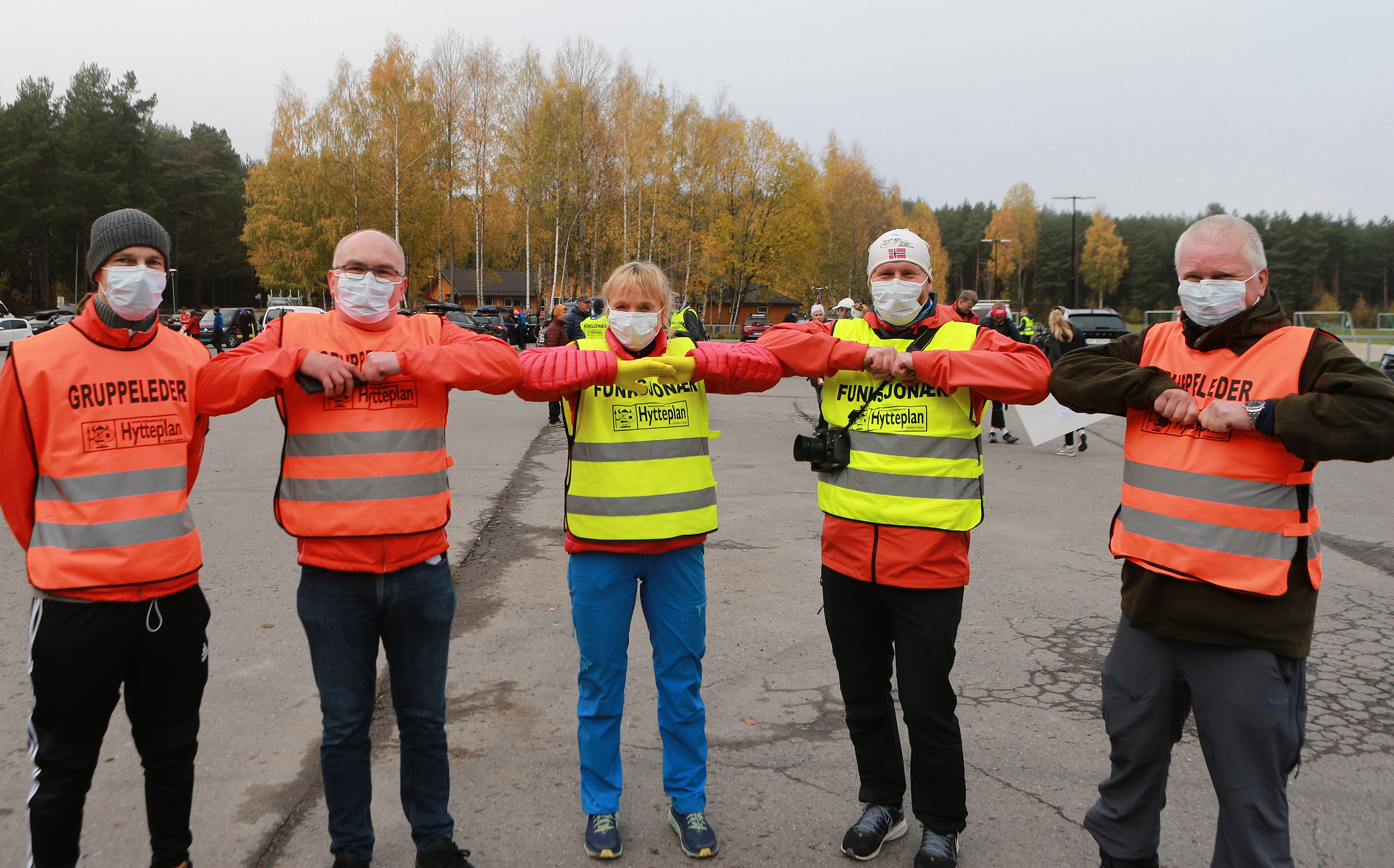 The organizer took absolutely all precautions to prevent any infection. Here we see, among other things, race leader Jon Anders Kvisgaard as second from the left. (Photo: Kjell Vigestad)
.