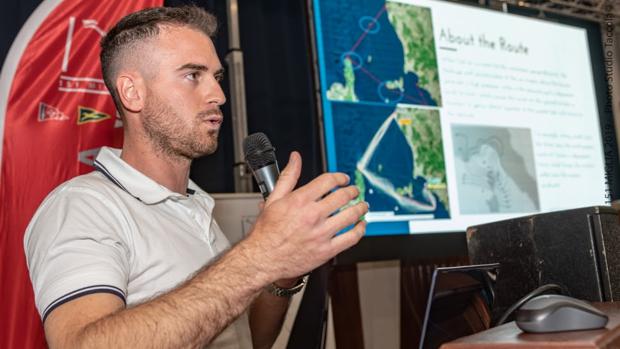 Riccardo Ravagnan has been the new meteorologist of the pre-Olympic sailing team since October 1. As such, he will be in charge of developing the meteorological models that Spanish sailors will use throughout the pre-Olympic year and in the next Tokyo 2020 games. Ravagnan has already accompanied the Spanish team that participated this summer at the Ready Steady Tokyo in Enoshima – headquarters of Tokyo sailing 2020-, the pre-Olympic test in which our representatives won a bronze and managed to finish in the top ten in three classes.
Ravagnan's career as a meteorologist includes several world championships of different classes, the Extreme Sailing Series, as well as other sporting events such as the 24 Hours of Le Mans. He is a scientific and strategic consultant for the company WMind ASD, specialist in nautical competitions and extreme sports. As for his academic training, he has a degree in geology and a master's degree in technical geology.
On the importance of good weather preparation, Ravagnan explains that it "influences performance in two ways. On the one hand it allows to develop a strategy based on where the wind will turn or where it can increase in intensity, in an idea of ​​what can happen. The strategy differs from the tactic in that the second is developed by the sailor in the water, depending on what he sees. " But also, he adds, "there is an emotional aspect that affects the athlete's psychology: knowing in advance what can happen gives you a sense of tranquility. And although it is difficult for a forecast to hit 100%, it helps the athlete prepare. "
Regarding Enoshima, the meteorologist states that
"It is a very complicated race course because it is very exposed to the morphology of the coast, and influenced by not only meteorological factors, such as mountains, which make wind behavior difficult to predict."
He points out that the meteorological work for Tokyo 2020 is already beginning, "with the objective during these first months of developing a high-resolution meteo model of Enoshima, based on our model," he explains. Following this, a document will be prepared with between 10 and 15 different scenarios of what could happen for all sailors and coaches. During the games this will be complemented by a meteorological briefing every morning for each race course, as well as a de-briefing in the afternoon, after the tests, in which to contrast what was planned and what happened.
As a preliminary step to the Tokyo 2020 games, whose inauguration ceremony will take place on July 24, Ravagnan will accompany Spanish sailors to the most important events in the race calendar. "We will complete a whole series of stages like the Auckland World Cups in December, the Princess Sofia Trophy, training in Japan, etc." Ten months to carry out the joint work that leads to sailing, the sport that has given more Olympic medals to Spain, to be again one of its main assets in a few games. .