Rigobert SONG Archives
The new technical staff of the national football team was appointed this Monday, February 28, 2022 "On the very high instructions of the President of the Republic" indicated the Minister of Sports, Professor Narcisse Mouelle Kombi
What is the most important sports news in the country of Roger Milla fell this Monday at 8 p.m. In a press release, the sports minister said that the technical staff of the Indomitable Lions led for about three years has been replaced by a new staff headed by Rigobert Song Bahanag, former captain of the national team.
This new staff is made up of seven technicians including four former glories of Cameroonian football. For the first time in the history of Cameroonian football, expatriates play supporting roles in the lair of the Indomitable Lions.
Thus, the French Sébastien Migne is named assistant coach number 1 of Rigobert Song. Aged 49, Sébastien Migne was a footballer in anonymous clubs in the West before becoming a coach in the early 2000s. He began to train in France in the Strasbourg, Lens, etc. teams. before settling in Africa where he served in the technical staffs of the national teams of the DR Congo, Kenya, Togo, Congo and Equatorial Guinea.
The first challenge for the new staff is the final qualifying round for the Qatar 2022 World Cup scheduled for the end of March. Cameroon plays a double confrontation against Algeria. First on March 25 in Douala and on March 29 in Blida.
Below, the new staff of the Indomitable Lions in full.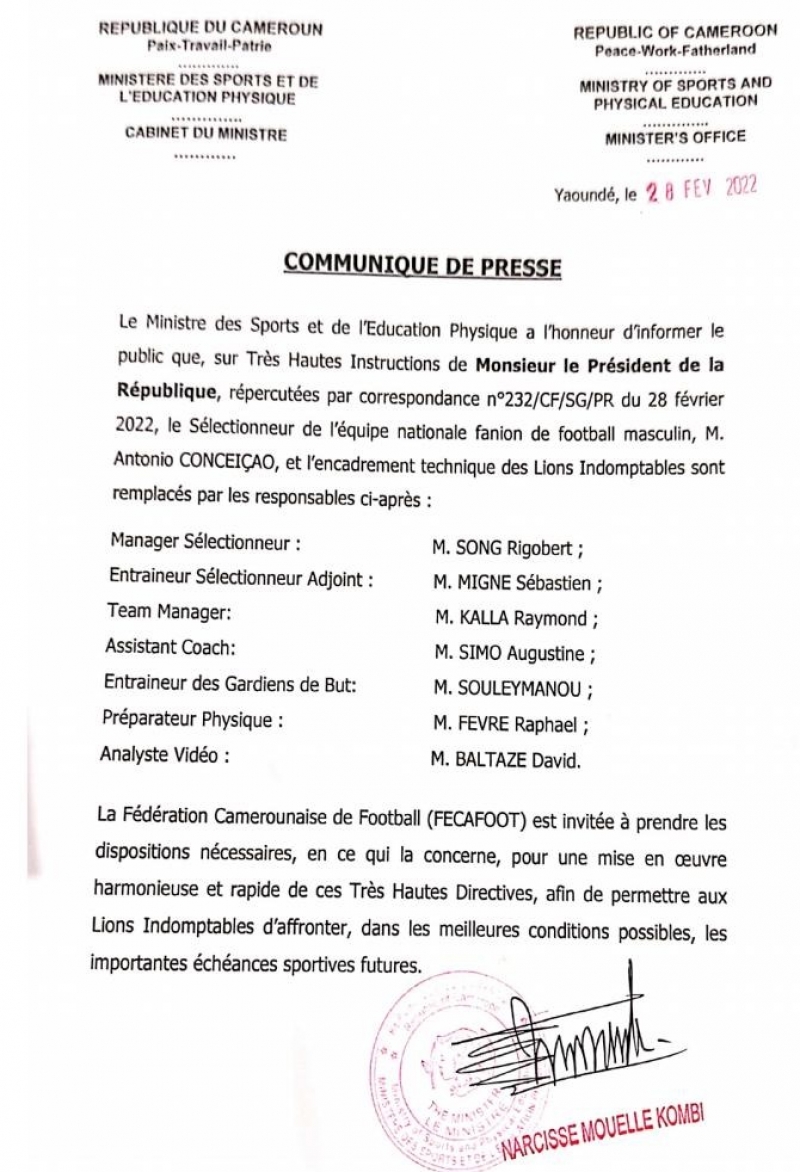 Appointment of a new staff of the Indomitable Lions (c) MINSEP