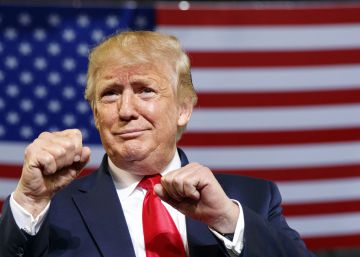 Donald Trump stirred the racist polemic against four US congressmen at his first rally since this political storm began and he found a public devoted to the cause. In a speech of an hour and a half in Greenville, North Carolina, the Republican spent 20 minutes on Wednesday to attack the legislators, putting special tares against Muslim Ilhan Omar. He accused her without any basis of having asked for compassion for the members of the Islamic State or of taking pride in Al Qaeda. Thousands of attendees began shouting: "Send it back, send it back!". He was silent. The scene reminded the 2016 campaign, when his followers chanted "Encarcélenla, encarcélenla!" About Hillary Clinton.
Last weekend, Trump posted some Twitter messages in which he was threatening four members of the House of Representatives to return to "their countries," when they are all American, three of them by birth: Ayanna Pressley of Ohio; Alexandria Ocasio-Cortez, of Puerto Rican origin; Rashida Tlaib, from Detroit and Omar, who came from Somalia as a child.
In the crusade of the president to associate socialism with the destruction of the American dream, was the congresswoman Ocasio-Cortez who served as bait. This Wednesday she called her only Cortez, because "it takes a long time" to mention her full name. The Republican said that the Bronx legislator believed that "contemporary Americans" were "junk." "She thinks you and I are trash," she said pointing to someone in the audience. He accused her of wanting the welfare of undocumented immigrants over that of US citizens. And he repeated the message: "If you do not like them here, let them go."
In Trump's rallies of the campaign of 2016 was usual this cry: "Encarcélenla, encarcélenla!". It was addressed to the candidate Hillary Clinton in the wake of the emails. A new slogan for the November 2020 elections may have been released this Wednesday. Congresswoman Omar has accused the Republican of promoting the "agenda of white nationalism" with all this controversy. Neither she nor the three other legislators aspire to the presidency in the next elections, but Trump has begun to refer to them to alert their bases against the more progressive left, calling them socialist and anti-American. "They do not love our country. Sometimes I think they hate it, "the president said before the crowd.
On Monday Trump defended himself with claws assuring that "he was not worried" that they thought the tweets were racist because "many people agree" with him. And this Wednesday he could take the pulse of support. The House of Representatives had condemned the content of its message Tuesday night, but it is led by the Democrats. "They want to destroy the country," he warned supporters in Greenville tonight.