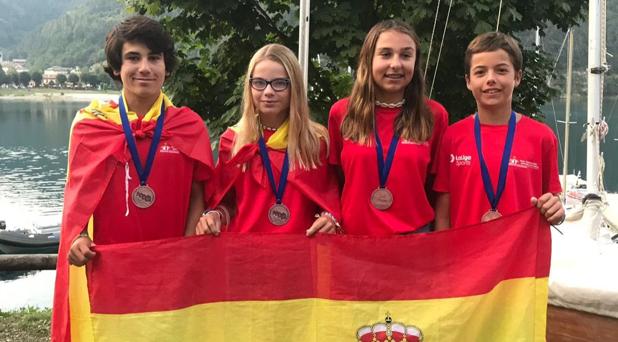 The Italian city of Ledro has hosted the Optimist Europe Team Racing Championship between August 20 and 24. The Spanish team has been formed by the Balearic Islands Pau Mesquida, Marta Cardona, Susana Bestard, Xavier García, all of them under the orders of coach Jaume Genovart.
On the first day Spain managed to make full in its four clashes, against Switzerland, Croatia, Portugal and Slovenia. Some results that gave a plus of moral to the Spanish team for the following meetings with a view to reaching the semifinals.
On the next day and closing that league of all against all, Spain managed to beat Germany, Ireland, Turkey, France, Sweden, Holland and Norway, while losing to Italy, Britain, Poland and Greece, with a total of 11 triumphs over 15 games which left our country in third place, following the ranking of points obtained in these 11 victories. The first place went to Italy followed by Poland.
Spain was, therefore, framed in the C league, with countries as strong as Italy, Poland, France, Great Britain, Turkey, Sweden and Norway, achieving two victories: Turkey and Sweden.
These results, together with those obtained in group D league, led to the ranking and final classification, in which Spain achieved a brilliant third place. The Europa Team Racing champion was Italy who returned his domain as he has been doing in recent years. The money was taken by Poland after a good performance in the previous league. .