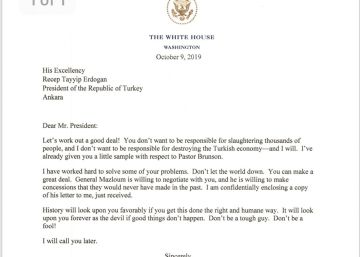 The president of the United States, Donald Trump, wrote on October 9 a letter to the leader of Turkey, Tayyip Erdogan, in which he told him not to be a "tough guy" or a "madman." It has been the journalist Trish Regan, of the Fox network, who has made the letter public, whose veracity has been confirmed shortly after by the White House.
Not one of the three paragraphs – four if we have the last line, in which Trump ends with a "I'll call you later" – is wasted or lives up to a statesman.
"Let's get a good deal!", Begins by encouraging the president, who ventures that if Erdogan hears him, "history" will judge him favorably for having taken the right human path. Trump threatens Erdogan with the opposite in case he doesn't do things right: "He will go down in history forever as the devil."
Trump's decision to withdraw US forces from northern Syria has allowed Turkey to initiate a military operation in the region against Kurdish guerrillas, who feel betrayed, since for some years they have fought alongside US soldiers to defeat the Islamic State.
Donald Trump made reference to the letter during the appearance before the press this morning after his meeting with the president of Italy, Sergio Mattarella. Then, the president denied having given Erdogan any "green light" to invade northern Syria and hinted at the letter as proof of that.
"I wrote a letter right after the conversation [held with Erdogan], a very strong letter," Trump said. "I never gave any green light," he insisted.
True. Trump tells Erdogan in the letter not to be responsible for the killing of thousands of people. "Because I don't want to be responsible for having destroyed the Turkish economy. What I will do, "writes the president. In a row, Trump reminds Erdogan what can happen if he does not follow his advice and refreshes his memory by mentioning the case of Andrew Brunson, an evangelical pastor who was imprisoned in Turkey accused of terrorism and who was released in 2018 after that the Republican multiplied metal tariffs by two, which weakened the Turkish national currency.
In the letter, Trump writes a phrase that says: "I have worked hard to solve some of your problems." But no more details are provided. The end is up to the rest of the letter. Trump ends with a relaxed: "I'll call you later."
Sincerely.
And Trump's signature of his handwriting.
.