Dressed in identical mauve costumes, Shane Lin and Marc Yuan, two 30-year-old couples since university, were the first to have their names on the register.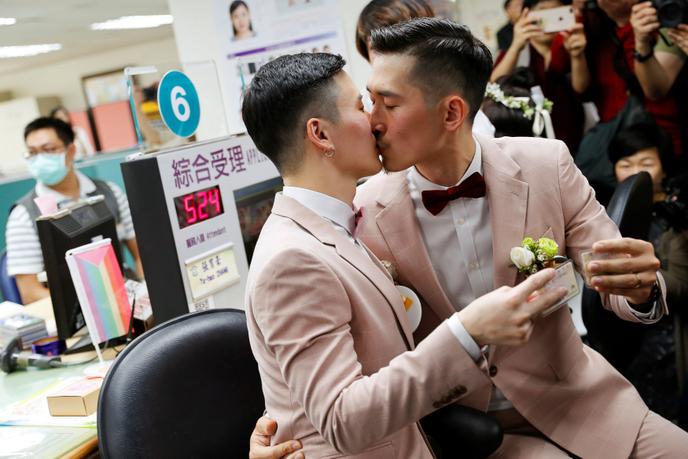 After three decades of fighting for equal rights on the island, Taiwan entered history on May 24, recording the first gay marriages in Asia. Celebrations that took place a week after Parliament legalized same-sex marriage, a first in Asia.
Dozens of couples showed up Friday at the offices of the administration to register their union in the register of marriages. They kissed in front of the cameras before proudly brandishing their marriage certificate and their new ID cards, introducing their partner as their husband.
Dressed in identical mauve costumes, Shane Lin and Marc Yuan, two 30-year-old couples since university, were the first to have their names on the register. "It has not been a long calm river and I am very happy to be supported by my half, my family and my friends"said Shane Lin weeping to reporters. "Today, I can tell everyone we are homosexual and we get married", he added. "I am proud of my progressive country. "
Read also
Which countries have legalized same-sex marriage?
300 weddings
Some 300 homosexual couples were to be married this Friday, half of them in the capital, which has a large and militant gay community. The city council plans to co-organize a large outdoor wedding party near Taipei 101, its iconic skyscraper.
Taiwan is the first country to legalize gay marriage on a continent that is home to 60% of the world's population. In the past decade, the country has been one of the most progressive societies in Asia on the issue of gay rights, including the biggest Gay Pride on the continent. However, the island, which has lived apart from China since 1949, is also a very conservative society, where religious lobbies are very powerful, especially outside cities.
In May 2017, the Constitutional Court ruled that it was against the Constitution to deprive same-sex couples of the right to marry. It gave the government two years to amend the law, but the issue deeply divided the society and legalization was assured only last week despite strong opposition from the conservative camp.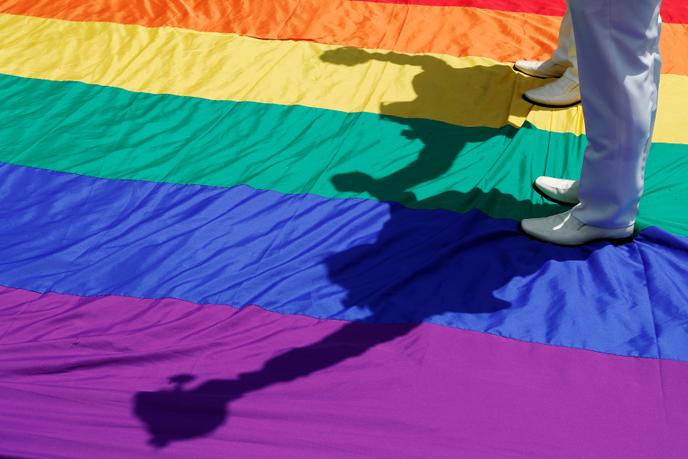 " I am honored "
Taiwanese MPs largely voted last Friday a law allowing homosexual couples to form "Exclusive permanent unions" as well as a clause authorizing them to apply for registration "Marriage registry".
These ceremonies are the result of thirty years of struggle for Chi Chia-wei, a veteran of the fight for equality, who was dressed in a bright red suit with a rainbow headband on his head. It was he who had filed the appeal on which the Constitutional Court had ruled in 2017. "I am very happy that same-sex couples can finally register as the husband of the other. I am honored to have witnessed entries in the register of marriages ", he said.
The new law does, however, contain restrictions that do not apply to heterosexual couples, particularly with regard to the right to adoption. As it stands, same-sex couples can only adopt their partner's biological child. If they can marry Taiwanese, homosexuals can only marry foreigners from countries where gay marriage is recognized.
Article reserved for our subscribers

Read also
The long march of the LGBT movement in Japan