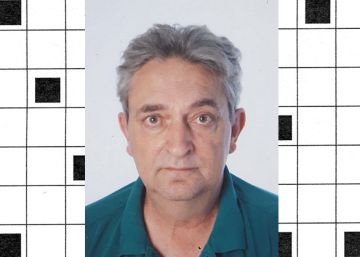 The influence of a means of communication, of a newspaper, is often measured by its capacity to offer exclusives, which is as much as introducing into the public agenda a subject that it was not before because other influential people did not want it to be. But it's not just that. The best parameter to measure this influence is its readers: of course, how many it has, but also the relationship it establishes with them. I like to think that we are like an old couple, that we know each other very well and in which each of the parties improves the other. EL PAÍS is a great newspaper because it has great readers, informed and very demanding, who sometimes get angry with us as one gets angry sometimes with the family. Thousands of them married Mambrino 17 years ago, when he did his first crossword in this house. Fill it every day has been a beautiful exercise of loyalty, a ritual that has woven a special complicity. And it is that kind of link that makes a header powerful.
I never saw him, and yet I have the feeling of knowing him. The more you knew him, the more you immersed yourself in his peculiar sense of humor, the more you learned from what he liked (literature, Real Madrid …) the more chances you had to guess his puns and complete Mambrino successfully .
Many moments of happiness have coincided with him because doing one of his crosswords meant not being in a hurry, parking obligations and for a while – longer, or less depending on how difficult it would have been that day – enjoy the luxury of stopping to concentrate in something that you like. Completing each square also meant going to sleep having always learned something new. The newspapers are that: they inform, they train and they entertain.
Like so many readers, I have seen now, in the sad news of his death, his face and his name (José Luis Herencia) for the first time. The emotional obituary written by his brother, Fernando, offers data that he did not know, such as his age (68 years) or the name of the person with whom he has shared his life (Araceli), and that has made me imagine him in his house, separating him, too, everything else for a while to surrender each day to the task of challenging us to guess his thinking, horizontally and vertically.
I keep the first crossword that published in the newspaper to do, as a last tribute, with another reader who is also a fan. Because the Mambrino was also shared, as is shared in a family. For all the times we smile to guess one of your riddles, your games words, everything we've learned, thank you very much, mate.
(tagsToTranslate) thanks (t) mambrino (t) fill (t) day (t) crossword (t) have (t) be (t) beautiful (t) exercise (t) loyalty (t) ritual (t) weave ( t) complicity (t) special (t) header (t) reader