There are four victims of the disease already in the capital and another five in the interior of the state
Hammer Grosso do Sul has already counted nine deaths caused by dengue in 2022. The latest is a 69-year-old elderly woman, resident of Campo Grande, who died May 6. The victim suffered from heart disease.
In Campo Grande alone, there are four victims of the disease. The others are women between the ages of 37 and 50, and a 46-year-old man, according to the latest State Health Department bulletin.
Other cases were recorded in the country, a 75-year-old woman, resident of Douradina, and four men aged 48, 50, 69, 82, who lived in Chapadão do Sul, Aparecida do Taboado, Itaporã and Guia Lopes da. Laguna, respectively. .
The number of dengue deaths caused in the state and recorded by the end of the first half of May already represents 64% of the 14 that occurred throughout the past year.
Of the 79 municipalities in Mato Grosso do Sul, only ten have not registered any dengue cases this year: Antônio João, Bandeirantes, Ladário, Vicentina, Eldorado, Miranda, Pedro Gomes, Bela Vista, Bodoquena and Porto Murtinho. In Campo Grande, there are 619 confirmed cases, followed by Chapadão do Sul (441), Amambai (273), Três Lagoas (265) and Dourados (265).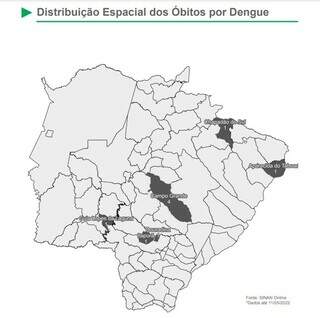 combat – The main measure of the population to prevent the spread of the disease is to avoid standing water at any time of the year. In addition to dengue, Aedes aegypti can transmit zika and chikungunya viruses.
The main preventive actions are to keep barrels, cans and water barrels covered; remove branches and leaves from gutters; do not allow water to accumulate on the slab; fill small vases with sand up to the edges or wash them once a week; change pot water and aquatic plants once a week; put trash in plastic bags in closed boxes; keep bottles and cans upside down; store the hoses in covered areas and seal the drains.