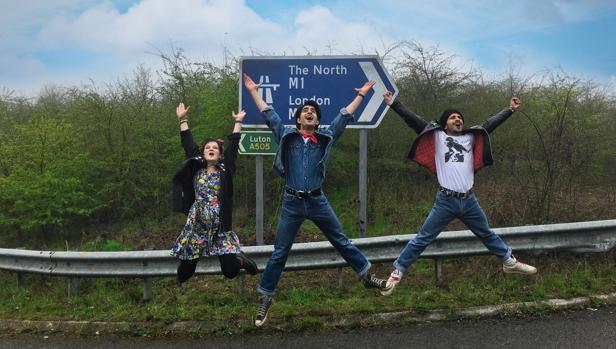 Since its presentation at the Sundance Festival, American critics have been "flashed" with "Blinded by the Light" by director Gurinder Chadha, who will perform "I want to be like Beckham." And he had reasons: the music of Bruce Springsteen that puts the audience to dance. Behind the songs lies the captivating story of a young man who, in 1987, in the middle of Margaret Thatcher, had to discover his place in the world.
Blinded by light
Inspired by the memoirs of British journalist Sarfraz Manzoor, the film shows how he moved between two very different universes: his house, where the roots of his Pakistani culture are maintained, and his street life, where he discovers Bruce Springsteen's music. Because "Blinded by the Light" makes a hole in a kind of new cinematic trend that we could call "roxploitation" (which exploit rock). Hollywood juices the music figures. We have seen it with "Bohemian Rhapsody", "Rocketman" and "Yesterday" and now it is, which today opens in Spain, where the music of "The Boss" sets the rhythm of each sequence.
«Bruce Springsteen is a real icon, everything he has written in his songs remains in force today. No matter that several decades have passed, her vision of the world and our society is very similar, "confesses the director, who declares herself an unconditional fan of" The Boss ". "His songs speak of ordinary subjects, of people who try to overcome their problems, workers who have lost their jobs, others who have two jobs to survive," he analyzes with admiration.
With that musical base, the rest of the ingredients flow thanks to a protagonist who discovers the joy of living at an age where identity is formed. «Music is a universal language and, in addition, Bruce speaks of small pleasures, such as falling in love or enjoying a landscape. Springsteeen is a hero because he has accompanied me since my teens and is still in fashion, "explained the director at the last Sundance festival. Next to her, the writer Sarfraz Manzoor, who helped create the script, acknowledged having changed the book's details for the film version. «Gurinder allowed me to separate from the character. At first I was going to call him Sarfraz but then I wanted to put distance because it is a story that can inspire many others, "Manzoor explained. For its part, the director does not stop praising the author: "I have the same roots as the protagonist and I understand his emotions … It has been a very intimate experience and a privilege to tell his story," he admitted.
Live songs
To give life to the protagonist, the director chose Viveik Kalra, who debuted in the cinema with this film after triumphing on television with the series «Next to Kin» and «Beecham House». «I had to sing at my audition and I got scared. I don't have much professional experience and somehow I got attention. In my first encounter with her, she made me sing "Born to Run" and I barely knew the importance of that topic until Gurinder explained it to me, "young Kalra admitted shamelessly.
In the film, this young Pakistani-British called Javed (Kalra) lives in a working-class neighborhood in Luten in 1987 with barely being able to integrate among his new English neighbors. When a friend from school teaches Bruce Springsteen's music, this aspiring poet and lover of the synthesizer begins to realize that in New Jersey there is someone who sings to him. . (tagsToTranslate) boss (t) springsteen