The president (LR) of the Ile-de-France region, Valérie Pécresse, asks the state to postpone the site of the direct train to Roissy airport to preserve the RER B.
Subscribers article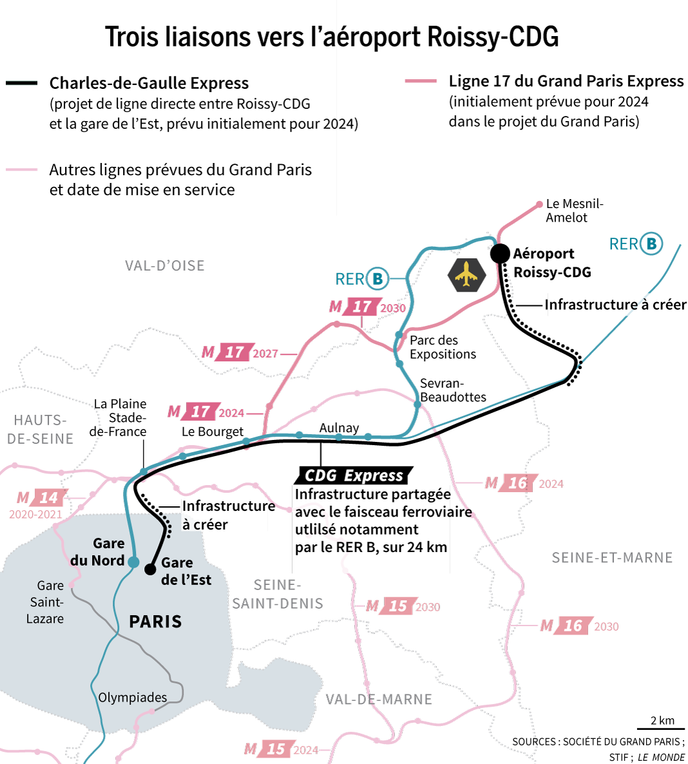 The CDG Express approaches a switch that is likely to lead him on a siding. This direct train was to put Roissy airport twenty minutes from the Gare de l'Est in Paris for the Olympic Games in 2024 – that was one of the strengths of the Parisian bid. But its realization faces the opposition of the main elected officials of Ile-de-France. They fear, in fact, that the construction of this line will transform into absolute chaos the RER B north of the capital, on a railway axis which must already undergo a heavy program of work in the coming years to make up for decades of under- investments.
Valérie Pécresse, the president (LR) of the region and Ile-de-France Mobilités, asked the government, Monday, May 13, "A firm, clear and fast orientation" for a postponement of the CDG Express after 2025. At the end of the hearing of the prefect of region, Michel Cadot, by the transport union, Mme Pécresse felt that maintaining the current timetable "Would be a loser-loser decision," combining "The unacceptable degradation of the conditions of transport of the Parisians" and "The assurance of not meeting the deadline for the Olympic Games given the extremely tight schedule".
Fifteen projects
For months, the SNCF Réseau and Ile-de-France Mobilités teams have warned against the risk of creating a cataclysmic situation for travelers. The CDG Express will travel 24 kilometers on the same railway line as the RER B and other regional trains.
However, the fifteen or so modernization projects already planned on this densest railway line in France to increase the capacity and robustness of the RER B will require, in particular, 250 nights of work per year for four years, with the recurring risk – and already regularly proved – not to be able to restore traffic at dawn.
Commissioned by the government to study the feasibility of the CDG Express in this context, the Prefect Cadot presented to the Prime Minister two scenarios, April 18. The first has the ambition to put the line into service in May 2024, in time for the Olympics, at the cost of a total closure of the RER B for three weeks in the summer of 2023, many lane cuts during the day and 'stops service from 23 hours to work the night. The prefect emphasizes:
"The achievement of this goal may increase the likelihood of incidents for commuters. "