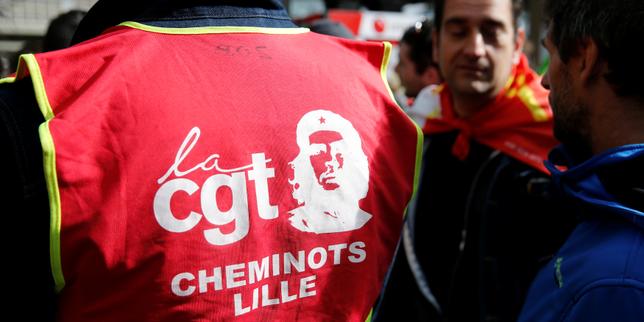 Many unions, including the SNCF and the RATP call for an interprofessional strike on December 5 to oppose the pension reform.
After SUD-Rail and UNSA-Ferroviaire, as well as five unions of the RATP, the CGT-Cheminots calls in turn to a strike extendable to the SNCF from December 5 against the pension reform.
First union of the SNCF, the organization "Calls the railroads to register massively in the strike on December 5 and to participate in the general assemblies to decide the suites". The CGT-Cheminots considers that "The balance of power can and must be greater than that of 2018", which failed to block rail reform.
CALL of the National Council of the CGT Federation of Railwaymen

The National Council, the governing body of the CGT des C … https://t.co/ckSbV3ZhsS
The trade union believes that "The contours of the future pension reform are rejected overwhelmingly by the railway workers. " She deplores a situation "Explosive" at the SNCF, "Because of strategic choices, reorganizations and reforms that deprive railroaders of the means to do a good job". End of October, a local social movement had partially blocked the TGV traffic on the Atlantic coast.
Read also
SNCF: before the strike of December 5 against the pension reform, the tension rises
A date that aggregates oppositions
This date seems to bring together many oppositions to the government. On 3 November, the "assembly of assemblies" of the "yellow vests", which brought together in Montpellier some six hundred "yellow vests" representing two hundred delegations of roundabouts, voted overwhelmingly a proposal to join the strike of the 5th December.
On 16 October, a broad inter-union – composed of the CGT, FO, FSU, Solidaires – and youth organizations UNEF, UNL, MNL and FIDL had launched a call to join the same date. They had thus joined five RATP unions, which, after their much-watched movement of 13 September, called for an "unlimited" strike from 5 December.
Friday, the new boss of the SNCF, Jean-Pierre Farandou, estimated that "The social movement that could be born on December 5 n(Was) not specific to the SNCF. On this subject, the elements of negotiation do not belong to me, it is not the president of the SNCF which leads the pension reform in this country ".
Read also:
On pension reform, will the government back away by referring to the "grandfather clause"?