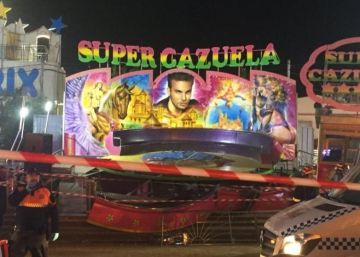 They ran two in the morning of last Saturday when the panic took over the fair of San José de la Rinconada (Seville). The seat of attraction known as The Superolla, in which the users are grabbed, it came off for reasons that are being investigated, causing several of the young people who had been mounted to shoot off. A total of 28 people, most of them minors, were injured and nine of them had to be transferred to several hospitals in the Andalusian capital. Three of them are still in hospital, the most serious one, a 13-year-old girl, is out of danger.
The City Council of the town has opened an investigation to clarify what happened and has announced that it will appear in the case against the owners of the attraction and the Association of Andalusian Fair who is the entity that operates the amusement park in San Jose. The consistory has confirmed that the installation in question had passed all previous security controls and that it had all the relevant permits in place and that it complied with the legal requirements.
"The attraction had satisfactorily passed the security checks prior to the start of the fair, as well as its technical documentation complied with all legal requirements.The competent bodies are currently conducting investigations and inquiries that lead to the explanation of the events that occurred, "says the statement of the session.
From the first hour of this morning, the Judicial Police is studying what could happen. One of the hypotheses that are considered is that the lack of maintenance due to obsolescence of the device would have caused the seat to detach. The municipal technicians check that the documentation is in order, but they do not evaluate the assembly systems, which is one of the causes that could have caused the breakdown.
At the time of the accident, the rest of the fair's attractions closed. However, the favorable evolution of the injured has determined those responsible to allow the park to resume its operation throughout this night and Sunday, the last day of festivities. Although most of the victims have been discharged, the anguish generated by the incident continues and many of them continue to be very affected. The City Council has also confirmed that it will make its legal services available to families for their want to initiate legal proceedings.
Accidents in fairgrounds in villages are not frequent, but they are more common than in amusement parks. One of the most serious that is remembered is the one that took place in the Toledo town of Villacañas in 2011, when a car from The tarantula It fell off causing the death of four people. Precisely another Super was the one that caused the death in 2014 of a girl in another Sevillian town: Los Palacios, as a result of an electric shock.
(tagsToTranslate) ayuntamiento de la rinconada (t) personar (t) attraction (t) cause (t) accident (t) feria (t) locality (t) sevillana (t) sevillano (t) resume (t) activity (t) ) Saturday (t) evolve (t) 28 (t) hurt