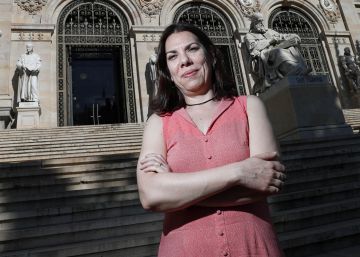 The turn of the century caught the journalist and writer Conchi Moya (Madrid, 47 years old) working at Radio Resistencia. In that rebel station, two of his companions had traveled to the first Sahara festival in the Heart, which was held in the Saharawi refugee camps in 1998. When he learned that in 2000 he was celebrating again with figures such as Rosendo, Mercedes Ferrer or Bidinte, he signed up without knowing very well where he was going or what was happening there. And her life changed, and she decided to dedicate it to teaching the world what she had ignored until then. He has written several books on the subject, the last one, The acacias of the exodus, a small editorial success far from the big distributors.
How did he get to the Sahara, what did he feel when he saw him the first time?
Actually, I went without knowing very well where I was going. I signed up for the Sahara in the heart of 2000 because it called my attention in an exotic and orientalist travel plan. I am very uncomfortable with everything about traveling and I am a little scared of the plane, so I went a little lightly, without knowing its problem.
And he disappointed you?
No, but it was nothing exotic. On the contrary, I was surprised but not in the sense I expected. I saw a town that was fighting for its cause and made me think and acknowledge that I, who have always been restless, liked to be informed of everything and read many newspapers, I had never encountered news about the Sahara. I remember that María Salgado, one of the singers who participated in the festival, said she wanted to become an "ambassador in the world of a worthy people." That phrase helped me decide that I also wanted to dedicate part of my life to publicize the cause.
And that's why he stopped working at Radio Resistencia?
No, I left that because they didn't pay me and it didn't seem right. I felt used and had to pay my bills, now I am a current technician in a multinational.
And with so much activity outside of work, don't they tell you anything in the multinational?
No, but it costs me a lot to attend to so much, and I always go on the subway correcting texts and editing on the mobile. Every moment of the day I have it busy, and I also like to go out a lot, the hustle and bustle of Madrid, go to concerts, to the movies, to reeds. Madrid street is very much alive and I don't like to miss it.
What a contrast to life in the desert, right?
Do not believe, the desert contains a lot of life. There you learn to survive respecting everyone. The desert is to live despite.
Has your partner, the Saharawi writer and poet Mahmud Awah Bay, taught you to take your life more calmly, as it seems to be part of the character of your people?
Yes, I have been stuck with things from the Saharawis, who know how to hide their haste very well and always show that external calm. And although it seems that life is taken calmly, they are constant workers and never stop.
He loves Madrid, he says, but in this city the agreements that bear his name and that are part of the origin of the conflict were signed.
The fault is not of Madrid, nor of the city, nor of the people. They were signed here because here is the government. The culprits are others, with names and surnames we know. Madrid, and it is not because of the topicazo, it is an open and welcoming city. Everyone here is from Madrid without any problem. I see it with my partner, a Saharawi who feels very Madrid although he arrived with almost 40 years.
What do you intend with your latest book The acacias of the exodus?
Through brief and different stories, I wanted to tell the curiosities that I had about the Sahara: to inquire about Felipe González's speech in the camps before being president, the identity of the photos of the Polisario Front guerrillas, including those Spanish teenagers who lived there until delivery to Morocco. Many stories transformed into literature through personal testimonies to understand the drama that remains there. Maybe the political discourse – which, of course, must be done – falls short and I wanted to arrive in another way.
Follow with us the news of Madrid on Facebook, in Twitter and in our Patio de Vecinos on Instagram
. (tagsToTranslate) desert (t) enclose (t) life (t) calm (t) conchi moya (t) be (t) journalist (t) writer (t) work (t) multinational (t) energy technician (t) (t) energy