Madrid
Updated:
save

ABC, October 23, 1977: «Only a few months ago I read in a newspaper with great circulation the news that the only survivor of the Cuban War had died, thus closing a stage in our history. I questioned the news, because in my wanderings through the Picos de Europa the summer of 1976 I met a vigorous countryman with many years and large descendants who told us scenes lived by him in his fight against the Cuban insurgents and had not yet aspect of dying from the years. I made a resolution to find out on this year's vacation. "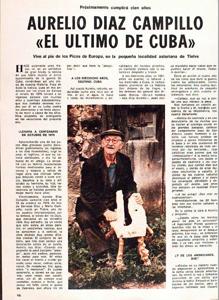 It had been 109 years since the first of the three Cuban wars of independence began and eight decades since the last one ended in 1898 and nobody could imagine that any of the Spanish soldiers who participated in that conflict could still live. Spain had lost its last three overseas colonies in that disaster and had already overcome the Restoration, the Primo de Rivera's dictatorship, the Second Republic, a civil war and the long Franco dictatorshipAs if to think that, having entered democracy, one of our combatants could still count it, especially if we consider that most of them died as a result of the terrible diseases they endured on the Caribbean island.
But yes. And Dr. M. Ruiz Rivas, a professor at the Faculty of Medicine in Madrid and a regular contributor to this newspaper in the late 1970s, located him for ABC. He lived quietly in the small Asturian town of Tielve: "I found him with his family collecting medicinal herbs for winter and walnut wood and roots for their rustic sizes, which are later sold at a good price. We went down to his house and there was his brother, his son, several grandchildren and great-grandchildren. A great-great-granddaughter was absent. His wife died years ago, "he explained.
Aurelio, 100 years old
It was about Aurelio Díaz Campillo, who had only a few months left to turn 100. He had been born in that same village in 1878. «An impressive town for its beauty, on the edge of the Duje river, resting in an incredible very narrow valley, of a green that exists only in those places. With its rocky slopes approaching vertical, the view soon reaches sharp ridges. The set is so beautiful, it seems more like a decoration out of a dream ", describes the doctor, who begins his nostalgic talk with our protagonist, about those days of the past nineteenth century.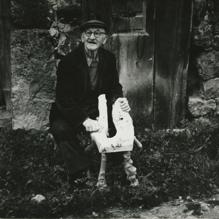 "When I was little I had a very bitter time," said Aurelio, "because my parents, shepherds, had no more. My childhood was digging the garden and raising cattle. Sometimes goats, sometimes cows. I had lots of wet, cold, water and snow. As soon as it was dark, to sleep in the caves. Sometimes with a lamp and sometimes without it. My food was chestnuts, walnuts and milk, which I never lacked, like Cabrales cheese, which now gives them to say that it has penicillin ».
This is how Díaz Campillo grew, until, when he turned 18, in 1897, he was carved by the Spanish Government and destined for the provisional camp of San Antonio of Las Vegas, in Havana, under the command of General Arsenio Blanco. A great man who never had things done that he couldn't do himself. Everyone loved him, "he says. That fate had come to him by lot, just as it happened in military service at the end of the 19th century. He could have been sent to Puerto Rico, the Philippines, or stayed in Spain, but he had Cuba, where he did not take action until he had been there for four years. He still remembered a multitude of adventures and confrontations against the "insurgents." "Shut up, I'm going to tell you one that is worth it," he tells the journalist, before sitting down on the grass to start his story.
"Flash!"
"I was a sentry and in one of the discovered ones, of the many that made the enemy hidden in the great forests, four men on horseback left the San Antonio base camp. The forces were cleaning a few kilometers from the base and 80 men stayed on it. [eximidos] of all service by tertian fevers [calenturas, episodios de fiebre y escalofríos que se producían cada tres días]. Malaria was worse than ambushed! In about half an hour, I see from the sentry post the four horsemen, who ran faster than the wind, and behind them many insurgents on horseback. The last of the four horses slowed down the gallop and the rider was hit and shot down on the spot. The other three entered our lines shouting: "To arms! There are more than four hundred! Immediately, the 80 men with their rifles jumped into the trenches, "he says.
At that moment, the good-natured Aurelio Díaz campillo's face brightened and he asked the doctor: "Do you know how we made them put their feet on dusty?" And then he himself replies: "Flash! Soon more than half were stretched out and the rest disappeared into the nearby forest. The very … found out that there were only 80 yellow and sick Spaniards at the base, and you see, with the shivering and we gave them all their due ».
This Asturian seemed to contradict those predictions of the writer Vicente Blasco Ibáñez, in 1895, on the future that awaited the Spanish soldiers who went to the Cuban War. He reflected it, with all the sarcasm in the world, in an article entitled "The Gray Flock": "Those who survive, if they can return to Spain, have their future assured. Among those who fired them yesterday, there will be someone who will buy them ridiculous fertilizers with a discount of 99%. If they are disabled, they can learn to play the guitar to ask for charity from any of these wealthy families in Cuba and it is possible that, from your carriages, throw them two cents ».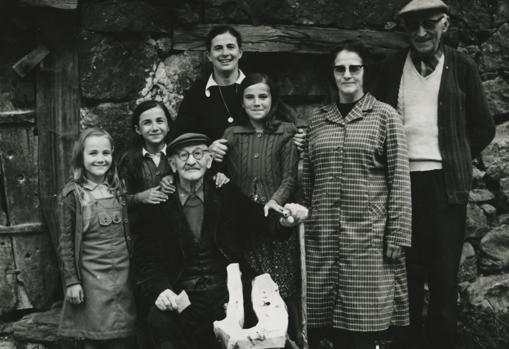 For many of those who survived, he was not mistaken, since, upon returning to Spain – after a hellish journey of two weeks, all squeezed into boats with hardly any food or drink, mixed healthy and sick and with hardly any healthcare – they had to suffer another ordeal: that of their social and labor reintegration in a country in serious difficulties. "Many became disabled, without the possibility of returning to their jobs tilling the fields or straining the olives. It was like returning to poverty and the Government did not know how to respond to it. They were not aware of the social problem that was coming upon them. When they left, they gave them everything: money, tobacco, wine, scapulars … And on the way back, not even good morning, "explained the Aragonese historian Javier Navarro, founder of the association, in 2018 «Return with Honor», that has managed to identify the more than 58,000 Spanish dead that the Cuban War produced.
According to information from the National Historical Archive, from February 1896 to November 1898, 10,995 useless soldiers and 33,808 sick were counted among the returnees. It was called "The Silent Fleet", which continued until well into 1899. A torture that could not be hidden in their emaciated bodies. A Compostela newspaper reported in 1898 a gloomy news item that illustrated this nightmare: «A poor soldier returned from Cuba came to the door of his father's house in Enfesta. The hour was quite advanced and as that unfortunate man lacked the strength to make himself known by voice, they did not open the door, despite his repeated knocks, for fear of being robbed. The next morning, the corpse of the unfortunate young man, starving, appeared lying in front of the door of his house, producing the heartbreaking scene when seen by his family ».
But for Aurelio it was not like that. He arrived safe and sound and had a very long and healthy life. So long as to share with ABC, with total clarity, the memories of that war eighty years later, when Franco had already died and the Civil War was a distant memory. And what was the confrontation with the Americans from 1898, when they came to Cuba to the aid of the Cuban independentistas? «I was in Havana when several of their boats began to approach the bay. Word spread and we took up positions on a hill overlooking the bay. The shelling of the ships began, but at the second gunshot fired by the Morro's battery, an enemy ship leaned sideways from the shock they gave it. We did not see him sink, because they took him towed to the high seas. The other ships disappeared. We were hoarse from shouting "Long live Spain! Long live the gunners! "», Answered the centennial Asturian.
The "politicones"
And he continues, afterwards, with his exciting story and the tragedy of defeat against the Americans: «Little did our joy last, because those ships concentrated in Santiago de Cuba and managed to disembark. In September 99 the Americans occupied the island. We received the surrender order, as there was not a single cartridge left. We were completely blocked by sea. Our warships were clunkers and could not deal with the powerful Americans. In honor of the truth, they did more than humanly could do and succumbed with honor. It was a shame, because the war was won. If it hadn't been for us to run out of food and ammunition, we would have been very upset. And their work cost them! For example, thousands of Americans fell on the beach in San Juan and those who defended the beach were only 500 men under the command of General Vara del Rey. Twice they had to re-board and were only invaded when our rifles could not fire due to lack of ammunition. I remember that very often blacks landed with a ring on their nose. Not one of those remained! I am not bitten by the conscience of not having done everything I could, the same as my colleagues, bosses and officers ».
And who was to blame for the defeat in the Cuban War, in which more than 58,000 Spaniards died? It's wrong to blame anyone. For me, as for my colleagues, the fault was, as always, the politicones, that while we were willingly risking our lives for Spain, they ruled over what they did not know. I still cannot explain how our generals, who knew what they were doing, had to obey these politicones », thought our protagonist in 1977.
In December 1899, the island was officially handed over to the United States and Aurelio embarked in Havana for his beloved Spain on the Villaverde ship. He celebrated Christmas Eve on the high seas. A celebration "sad, because the joy of thinking that it was not long before we got home was annoyed by the sadness of defeat," added, in full physical and mental condition, this last soldier surviving the Cuban War, almost 100 years old . We don't know exactly when he died, but we do know that he still lived a few more years to tell about it. «This is Don Aurelio Díaz Campillo, a native of Tielve, a small town in the Picos de Europa, who turns 105 tomorrow. Don Aurelio has 12 children, the eldest of whom is 82 years old, and numerous grandchildren, great-grandchildren and great-great-grandchildren, "it could be read on ABC on October 15, 1983.
.