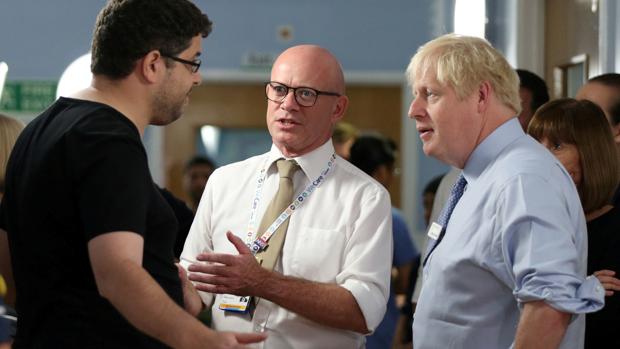 The images of a caring in which the father of a sick girl reproaches the state of the public health system to British Prime Minister Boris Johnson took center stage on Wednesday in the mainstream media in the United Kingdom.
During a visit by Johnson to Whipps Cross University Hospital in north-east London, the father reproached the head of government that "the NHS (health system) has been destroyed." "There are not enough doctors, nor enough nurses," laments the man in a corridor of the health center, as can be seen in the images distributed by various chains. "Would you like this for your own children?" The father snapped, who said his daughter "almost died" last night.
"There are not enough doctors, there are not enough nurses. The NHS is being destroyed, and now you come here for a press opportunity"
The father of a sick child confronts Boris Johnson on a visit to a London hospital https://t.co/Yd5A08oLtU pic.twitter.com/OAOi5Q14fG— BBC Politics (@BBCPolitics)
September 18, 2019 The conservative president, who assumed the position of prime minister at the end of July after the resignation of his co-religionist Theresa May, has been touring several cities in the United Kingdom since the beginning of this month.
Johnson hoped to deploy the campaign for early elections during September, but Parliament vetoed that possibility. During his care, the father of the sick girl shaves Johnson who has gone to the hospital "to appear in the press." "There is no press here," replies the conservative leader. The father, meanwhile, points to at least one camera near them and asks: "What does it mean that there is no press here, who are these people?"
A spokesman for Downing Street, Johnson's official office, later stressed that the prime minister has visited several hospitals in recent weeks to learn directly about the "patient and worker" views of the public system.
The prime minister has suffered several incidents in recent days with citizens who have faced him.
At the beginning of the month, during a visit to Yorkshire, in the north of England, a man approached to shake hands with the prime minister and, in front of the cameras, asked him: "Please, leave my village." "I will do it very soon," replied the president "tory."
Last week, during a speech, also in the north of England, a spontaneous interrupted the head of government. "Why are you not in Parliament?" And "Fix this disaster you created," shouted that viewer to Johnson, who led the favorable campaign to leave the European Union (EU) before the three-year referendum.
After having suffered these incidents, Johnson decided on Monday not to appear in a press conference scheduled with Luxembourg Prime Minister Xavier Bettel, realizing that there was a group of protesters concentrated near the stage where both should appear before the media. . (tagsToTranslate) johnson (t) father (t) ninna (t) sick