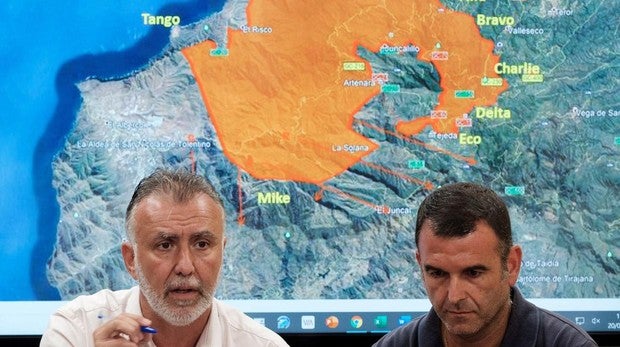 The active forest fire since last Saturday in Gran Canaria, the most serious that has been registered in Spain this year, is stabilized after having affected 9,200 hectares and forced to evacuate about 10,000 people.
The president of the Canary Islands, Ángel Víctor Torres, reported Wednesday at a press conference that the fire, which did not cause human damage, affected a perimeter of 112 kilometers and that, although it is stabilized, level 2 remains under the direction of the regional executive.
The president has requested that all air units and ground equipment destined for extinction work be maintained on the island as long as there is no other fire in Spain and the category of Gran Canaria is lowered.
"It's alive, you have to finish it off," said Torres, who recalled that the fire, which has worked a thousand people every day, has affected 11 of the 21 municipalities on the island. He said that on Wednesday the troops have poured about a million liters of water on the fire and work has focused on the extinction and assessment of roads and urban centers so that many of the evictions could return to their homes.
The emergency technical director of the Cabildo de Gran Canaria, Federico Grillo, explained that the fire is stabilized "within control lines." Cricket has indicated that the fire is currently "caught by tweezers" and "under observation" and has warned that it could be reactivated at some point.
However, at the moment the conditions are good, since the temperature has dropped and the humidity increased, although these weather conditions could get worse in the coming days.
"If everything goes well in a couple of days it could be controlled, although not liquidated, which will take a while," said Grillo, who added that the fire that is "asleep" and "hidden" could be reactivated with the wind.
The technician has said that it cannot be guaranteed that the fire cannot be restarted, so he has insisted, "We cannot lower our guard or trust ourselves." .