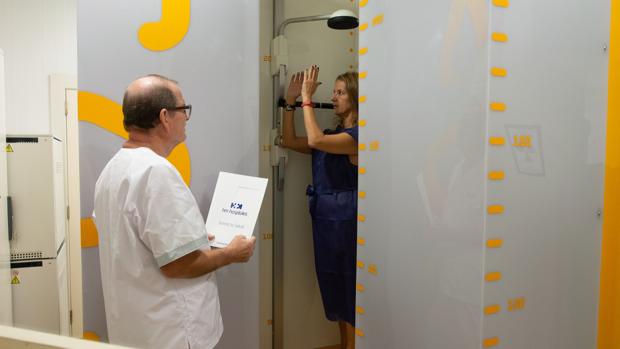 Patients will have the right to be informed about the risks and benefits of radiological tests and the doses to which they are exposed, information that should be included in the dosimetric report, which will be part of the clinical history, under a Royal Decree approved this Friday by the Council of Ministers.
The information must be provided by the prescriber and the healthcare professional responsible for the exhibition, according to the decree, approved at the proposal of the acting Minister of Health, Consumption and Social Welfare, María Luisa Carcedo, who partially transposes a European directive.
The goal is to set new rules, guarantees and requirements to maximize the protection of patients and professionals from exposure to ionizing medical radiation, the Ministry of Health said in a statement.
The decree defines the conditions of application of these techniques so that the radiological exposures have a net benefit with respect to the assumed risk and that the individual doses are kept as low as reasonably possible.
In addition, it regulates aspects such as child protection, women during pregnancy and lactation, caregivers, volunteers who participate in research programs, accidental exposures and procedures that involve high doses for the patient.
The standard also includes the technical requirements for medical-radiological equipment, mainly in relation to their ability to report on the amount of radiation produced and the parameters necessary to evaluate the dose administered to the patient.
Equipment installed before February 6, 2018 will be exempt from these requirements.
The Royal Decree contemplates the training of radiation protection professionals both in undergraduate curricula and in radiation oncology, radiodiagnosis, nuclear medicine and other specialties programs. It includes the one of the superior technicians qualified as operators and the continuous training.
The text updates and defines the responsibilities of the professionals involved in the different radiological procedures and care units.
Thus, the functions of the prescriber, the qualified healthcare professional and the operator are defined and adequately systematized, with special reference to the specialist in hospital radiophysics.
The directive affects the competences of other ministries such as that of Ecological Transition, which has already approved a partial transposition order; Promotion; Industry, Commerce and Tourism; and Interior, so it is planned to approve or modify a total of eight Royal Decrees. .