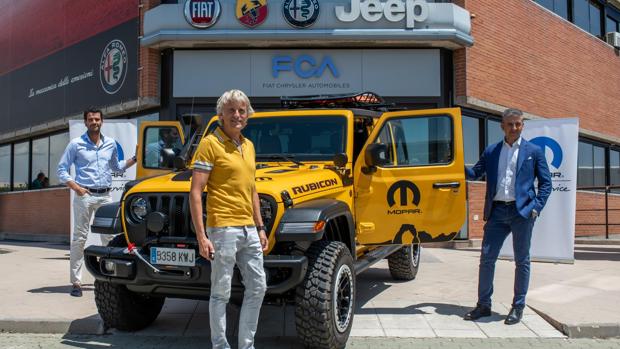 The headquarters of FCA in Alcalá de Henares was the place chosen to deliver this impressive Jeep Wrangler by the CEO of FCA for Spain and Portugal, Alberto de Aza, who was accompanied by the Director of Jeep Marketing, Manuel Pérez Casado .
To this amazing Jeep, a series of modifications and improvements have been made to achieve optimum performance. The vehicle has been customized by Mopar for the presenter and ambassador of the Jeep brand, Jesús Calleja and has specially selected elements from the Mopar Performance Parts catalog.
In this customization, we have been looking for elements that bring that spirit of adventure, maximum customization and exclusivity to reach that place where our Jeep customers dream to arrive. Some of the elements will be available in the 1941 version of the Jeep Wrangler designed by Mopar that has recently been presented at the sixth edition of the 2019 Jeep Camp, held in San Martino di Castrozza, the heart of the Dolomites (Italy).
The 1941 Jeep Wrangler is a four-wheel drive vehicle with 100% street legal customization, equipped with Jeep Performance Parts that further enhance its legendary off-road capability. The specific configuration of this model includes a 2-inch suspension lift kit, high-performance rock sliders, black corners, fuel cap and black fenders, all-weather floor mats and an optional snorkel type air intake.
This configuration is completed with the 1941 adhesive that commemorates an important year for the Jeep brand. It was the year of the birth of the Willys, also represented in other details of the vehicle, such as the wheels, the doorknob and the table in the tailgate.
Jeep Wrangler 1941 by Mopar will be available in Spain after summer 2019
. Everything you can imagine for your Jeep, is possible from Mopar and its endless customization possibilities. . (tagsToTranslate) jeep (t) amazing (t) equipped (t) new (t) car