The head of Israeli public television blames Hamas for broadcasting images on the public television website suggesting an impending attack.
The Israelis who watched the first semifinal of the Eurovision contest on the website of the national public channel Kan, Tuesday, May 14 in the evening, had a funny surprise.
In the middle of the ceremony, held this year in Tel Aviv, the images of the concert were replaced by satellite photographs of what looked like an Israeli city, and on which there was a cloud of smoke. This sequence was punctuated with several messages, in English, some similar to those used by the Israeli army to prevent an attack, adorned, in addition, with its logo. "Israel is not sure, you will see," proclaimed one of them.
Hack
The head of public television, Eldad Koblenz, dismissed any technical malfunction. It would be a hacking, perpetrated by him according to Hamas. "Someone, apparently Hamas, has taken control of the digital retransmission. We managed to overcome the attack in a few minutes. I believe this is the fastest victory in Israel's history of Hamas, " he explained on the airwaves.
The number of viewers exposed to these images remains unknown, but it does not seem very important. This piracy concerned only the video stream broadcast on the website of the public television, the conventional television broadcast, provided by Kan to dozens of television channels, was not affected.
Kan did not provide evidence of Hamas involvement
Kan did not provide evidence of Hamas's involvement, which had not responded Wednesday night. The Eurovision Song Contest has also been the subject of boycott calls, including by some 50 British personalities, including singer Peter Gabriel and filmmaker Ken Loach, as well as the BDS movement. Boycott, divestment and sanctions).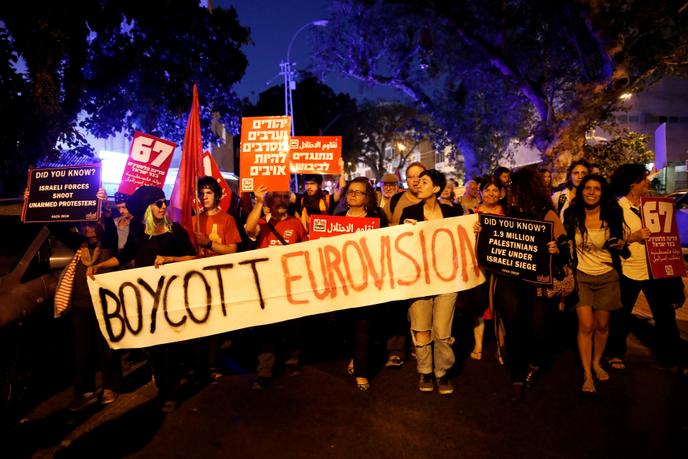 This piracy is far from trivial, since it directly refers to the violence that regularly ignites the region. In early May, Hamas and Palestinian armed groups in Gaza launched hundreds of rockets into southern Israel, which the Israeli army fought back by striking hundreds of targets in the enclave wedged between Israel, Egypt and the Mediterranean. subjected to the Israeli blockade. Four Israeli civilians and twenty-five Palestinians, including at least nine combatants, were killed.
The fragile ceasefire that concluded this outbreak of fever was made possible in part by the imminence of Eurovision, which Israel intends to take advantage to highlight its strengths.
Read:
In Israel, Eurovision puts the image of the country at stake
React or view all comments
Leave a comment