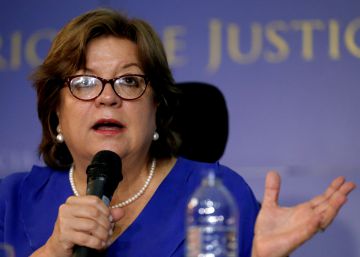 The Minister of Justice of Colombia, Gloria María Borrero, He has presented his resignation on Thursday. The resignation is known a day after the departure of Attorney General Néstor Humberto Martínez, motivated by the decision of the Special Justice for Peace (JEP) to order the release of FARC leader Jesús Santrich, who is under an extradition order. U.S.
Borrero, who had been in charge of the portfolio since Iván Duque assumed the presidency of the Latin American country last August, argued personal reasons to leave office. From Medellín, the Colombian president announced that his replacement will be the magistrate of the Supreme Court of Justice Margarita Cabello Blanco.
Borrero had behind him considerable political wear and tear after failing to successfully process in Congress the justice reform he proposed or the presidential objections to the transitional justice system.
(tagsToTranslate) resignation (t) minister (t) justice (t) deepen (t) crisis (t) institutional (t) colombia (t) gloria maría borrero (t) submit (t) resignation (t) day (t) fiscal (t) general (t) earthquake (t) political (t) provoke (t) decision (t) liberate (t) exguerrillero (t) farc