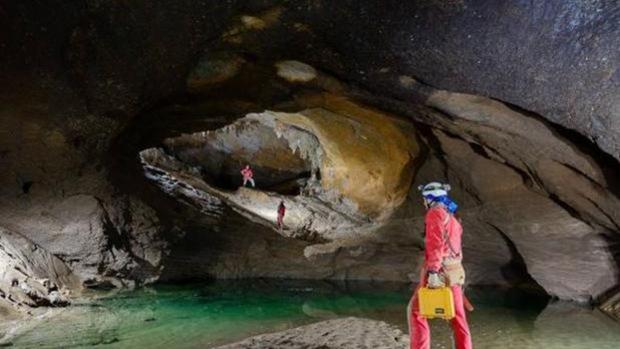 The rescue team of the four Portuguese speleologists who remain since Saturday in the network of cavities of the Cueto-Coventosa cave, in the Cantabrian municipality of Arredondo, is seeing their work complicated due to the rise in the level of water in the area.
Four experts from the caving team agreed last night, after 10 pm, through the mouth of Coventosa, although they could only advance about 50 meters due to the level of water recorded in the area.
According to a press release the emergency service 112 of the Cantabrian Government, which coordinates the operation, specialists have reported that the water falls inside the cave at 10 centimeters per hour, which is very little for what is foresaw
At the entrance of the area of ​​the three lakes, the rescue team has installed a bivouac point (camp) waiting for the water level to decrease.
The forecast of the State Meteorological Agency is of weak point showers during this early Monday morning and no rain the rest of the day, but for tomorrow Tuesday "is bad", according to 112.
Given these data, rescuers are going to install ropes and handrails early this Monday in case the water level does not drop, and they want to take advantage of this day to cross the flooded areas with these fixed facilities.
This relief team believes that the four speleologists may be stuck due to the increase in the water level in the cave, between the blower hole, the zip line and the three lakes.
The emergency service 112 of the Cantabrian Government activated Sunday, in the afternoon, the rescue operation of the four Portuguese, who agreed on Saturday to this network of Cueto-Coventosa, from which three speleologists were rescued last July.
The four cavers, belonging to a Portuguese mountaineering club, entered Saturday through the mouth of Cueto at 11.00, and in the absence of news, three other companions agreed at noon on Sunday Sunday by Coventosa to see if they found them, but they ran into a lot of water, which made it impossible to continue the march.
Therefore, about 16.30, they gave notice to the 112 coordination center, from where the rescue device was mobilized.
The operation is made up of the Cantabria speculator team (Esocan), as well as technicians from the General Directorate of Interior of the Government of Cantabria, Civil Guard agents and volunteers from the Civil Protection Association of Arredondo.
In the town of Arredondo, the Advanced Command Post (PMA) has been installed from where the operation will be monitored, in coordination with the 112 room. (TagsToTranslate) rescue (t) level