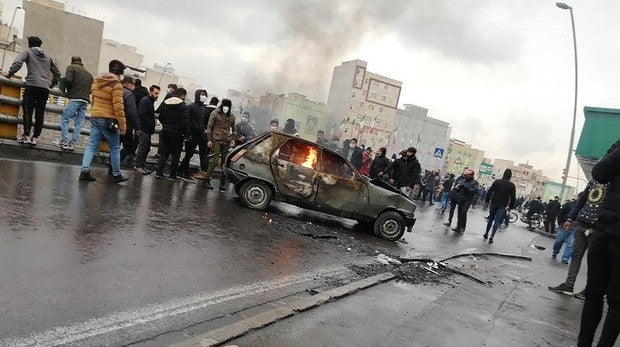 A week after announcing the discovery of "a new large oil field" in the southwest of the country, with reserves of 53,000 million barrels of crude oil, which would make it the second most important in Iran, Hasan Rohani decided by surprise to increase Fifty percent the price of gasoline and ration it. The president's decision, which came into effect on Friday, set fire to the streets of the country and at least one protester lost his life in clashes with security forces that were repeated for the second day in major cities. Social networks were filled with videos and messages from protesters who cried out against the rise and lashed out at Islamic authorities in places such as Tehran, Garmsar, Gorgan, Ilan, Sinyar – a city where the dead occurred -, Karaj, Qazvin, Qom, Sanandaj or Shiraz, the official Irna agency reported.
The Islamic Republic is one of the countries that subsidizes fuel most importantly. The price of a liter of regular gasoline that was hitherto 10,000 rials, has risen to 15,000 (slightly less than eight cents) and each private car has the right to refuel 60 liters per month at this subsidized price, when it could before reach 250 liters. From this amount the liter will cost 30,000 rials (0.24 euros), which represents a 300 percent rise. Rohani, drowned by the effects of the sanctions imposed by Donald Trump, seeks extraordinary income that allows him to raise funds to "redistribute them among Iranians facing economic difficulties." The moderate cleric promised that "not a single rial will go to the Treasury" and said that the first payments to needy families will take place "within ten days." The president recovers in this way a formula that his predecessor, Mahmoud Ahmadinejad, already used and criticized at the time because he "encouraged corruption."
Within the parliament the opposition has criticized the president's decision and recalls that it is taken at the doors of the February legislative elections. Mojtaba Zonnour, a parliamentarian who is part of the National Security and Foreign Policy Committee, said in statements to national television that "many members of the chamber are against this measure and we are going to ask for its cancellation."
Trump's punishments prevent Iranians from selling oil, their main source of income. Oil exports reached 2.5 million barrels per day before the sanctions, but at present they have been drastically reduced due to the obstacles imposed by Washington. Rohani promised that the economy would improve thanks to the signing of the 2015 nuclear pact, but four years later Trump's punishments have a devastating effect. In the last year, inflation has skyrocketed above 40 percent and the rial has lost two thirds of its value. . (tagsToTranslate) iran (t) gasoline