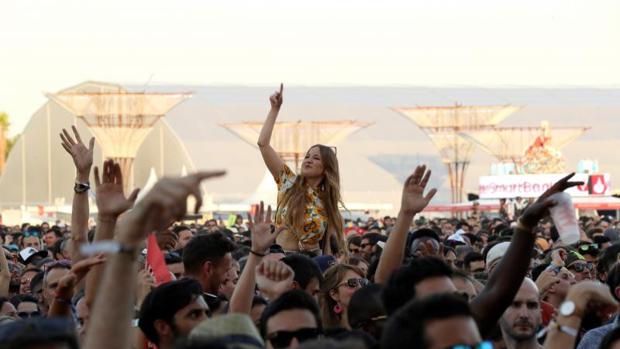 The mobile has become an inseparable companion in music festivals. From the camera, which allows us to capture unforgettable moments, to the mobile notes to account for the 'tokens' that we have left, there are many ways to improve our festive experience through the mobile. With summer, the music festival season arrives, and to survive any of them we share a selection of essential mobile applications.
For those who are more fond of festivals, who want to keep up to date with the various festivals held throughout the summer, Festivall is an "app" that includes events from around the world, as well as the list of artists, with information about them . A festival can be a real human jungle and meeting friends can be a challenge. Snapchat allows you to place friends who have shared a location with you thanks to Snap Maps for free. In addition, launching a Snap can also be useful to give clues to the group about where we are, as if it were a virtual sparkler.
Contrary to what many people believe, it is not possible to use applications such as Shazam to detect the songs that groups are playing, since as explained by the service, currently owned by Apple, it only works for recorded music and not for live music. Among the most recommended applications to use during festivals are cost-sharing applications, such as Splitwise or Settle Up, which allow you to organize with friends to make it easier to remember how many tokens each owes. Notes applications like Google Keep can also help.
Another of the big problems at festivals, with long days of concerts, is precisely how easy it is to run out of battery in the mobile. Applications such as Battery HD allow you to control the consumption of mobile phones to get the maximum possible juice from each charge. Today it is essential to share your fun with others and that all your followers in networks are aware of the groups you have been to see. Unfold, Story Editor is a free application that has a collection of 150 templates to create unique stories with different frames, effects, typographies or stickers to tune your Instagram or Facebook stories in the best possible way.
Music festivals are also great collective karaokes, in which the entire audience sings the songs of their favorite group in unison. It is impossible to know the lyrics of all the bands, but Musixmatch, a free application with integrated purchases, is teaching you the lyrics of the songs as a real karaoke.
Being a festival means being hours and hours in the sun and staying hydrated is essential not to suffer a heat stroke. Applications like WaterMinder, which is priced at 5.49 euros for iOS, allow you to easily control your daily water consumption. Through graphics, it offers information on the level of hydration and gives the option to create alerts to remind you that it is time to drink the water. To stay connected with the group of friends in the crowd of people connected to the 4G and not suffer loss of connection and not get disoriented at the campsite, Berkanan Messenger, which is also free, offers the possibility of sending messages via Bluetooth connection.
The bathing areas of the festival venues are not usually very attractive and also create large queues that can hinder. The free application Flush – Toilet Finder & Map locates the nearest public services, including notifications about whether or not it is open to the public or information on what state it is in.
If what you want to remember is the place of our tent in a festival campsite, there are also applications that are able to help us in this task, such as Tent Finder, while finding My Friends is another software that helps Don't lose our best friends. The time to return at the end of a day can be difficult due to the great crowd of people but free applications such as Citymapper or Moovit advise the best transport option whether walking, by bus or taxi to reach the hostel, apartment or camping. .