Jakarta –
Zaini Mustofa sued Ustaz Yusuf Mansur of Rp. 98 trillion to the South Jakarta District Court. What is the reason Zaini sued Yusuf Mansur?
As explained in a press conference on Thursday (13/1/2022) yesterday, Zaini Mustofa, who is a lawyer, initially he and the members of the Darussalam Mosque in Kota Wisata listened to a lecture by Ustad Yusuf Mansur (UYM) in 2009 until finally following UYM's presentation related to business. coal.
The business is carried out by PT Partner Adiperkasa where UYM is the President Commissioner whose mine is said to be in South Kalimantan.
In his presentation UYM explained that his business could be profitable by 28.6 percent which would be divided by 3.
A number of residents who are members of the Study of People's Democracy (SDR) and investment victims held a press conference about Ustaz Yusuf Mansur. Photo: Rifkianto Nugroho
"The amount is 50 percent, 14.3 percent for sodakoh to UYM Islamic Boarding School, the other half is for BMT Darussalam madani as manager or management, and 11.3 percent for investors," said Zaini.
At that time the congregation was invited to visit the mine site by the President Director, returning from the location the congregation was invited to invest. The congregants also had the opportunity to get monthly benefits in the form of cash which did not last long from June to December 2009, but starting in January 2010 they were not paid.
In 2010 there was a meeting between UYM and the congregation, he said he would replace all the money that had been deposited. However, this promise has not been realized so far.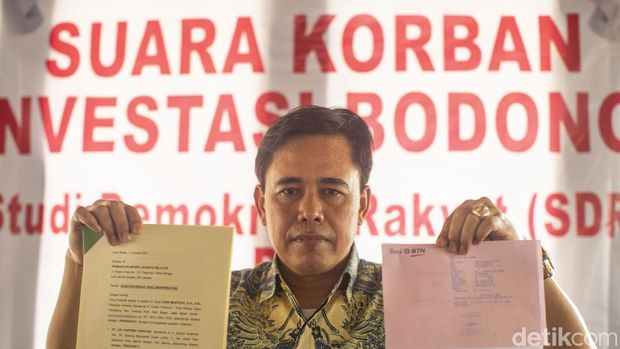 Zaini Mustofa (rifki/detikcom)
The congregation and Zaini began to take the initiative to take legal action, but were prevented by several other congregations on the grounds of making Muslims noisy. Delayed until 2020 and now 2021, it turns out that more and more other victims are starting to speak up. Now Zaini is suing UYM himself to the South Jakarta District Court with a material claim of Rp. 98 billion and an immaterial loss of 100 billion, later the first trial will begin on February 15, 2022.
Here is Zaini's complete claim:
1. To grant the Plaintiff's claim in its entirety;
2. State the DEFENDANT I, II, III and IV, BREAKING PROMISE (WANPRESTASI);
3. Declare valid and valuable Security Seizure (Conservatoir Beslag) for:
– The land on which stands a residential building located at Jl Ketapang No. 35, RT 001, RW 03, Kel Ketapang, Kec Cipondoh, Tangerang City, Banten, belongs to ACCUSED III;
– The land above stands a shophouse building which is used as the BAITUL MAL WATTAMWIL DARUSSALAM MADANI Office aka BMT DARUSSALAM MADANI which is located at Ruko Presh Market Blok FMR-6 No 18, Jl. City Tourism Boulevard, Ciangsana Village, Gunung Putri Sub-district, Bogor Regency, West Java, owned by ACCUSED IV;
4. Sentencing ACCUSED I, II, III and IV, jointly and severally to pay material and immaterial losses to the Plaintiff in the amount of Rp 98,718,073,610,256 (Ninety eight trillion seven hundred eighteen billion seventy three million six hundred ten thousand two hundred fifty six rupiahs) with the following details:
-Material capital loss plus a total profit of Rp 98,618,073,610,256 (Ninety-eight trillion six hundred eighteen billion seventy-three million six hundred ten thousand two hundred fifty-six rupiah);
-Immaterial loss of Rp. 100,000,000,000 (One hundred billion rupiah);
5. Sentencing ACCUSED I, II, III and IV, jointly and severally to pay forced money (dwangsoom) of Rp. 10,000,000 per day for failure to fulfill the verdict in the a quo case;
6. Punish the DEFENDANT to submit and abide by the decision of the matter a quo;
7. Punish the DEFENDANTS I, II, III and IV, in a continuous manner to pay the costs of the case arising in the case a quo, in accordance with the provisions of applicable law;
8. To declare the decision immediately (uitvoerbaar bij voorraad), even though there are legal remedies for verzet, appeal or cassation.
detikcom has asked for confirmation from Yusuf Mansur's attorney, Dedy DJ. However, he has not provided any information.
Watch Video: Ustaz Yusuf Mansur Policies People Who Spread Slander
[Gambas:Video 20detik]
(asp/tor)
.