There is talk of how important it is to have role models in front of a sports career. And thanks to you, Czech children have a lot of tennis ones. Are you happy for that?
As we are a small country, there are too many of us at the peak. I just hope that with the girls we set an example for children. I didn't have a great role model myself, but it's definitely good to have someone you can look up to. This is important for motivation.
How did you evaluate the whole Wimbledon stay with the team?
Just that we didn't discuss it much. We just went to dinner together, then I stayed a day longer in London to see (former coach) Olga Savčuková, who lives there and is expecting a baby. There will still be time for some summary. We will definitely return to this.
After the Wimbledon final, Karolína Plíšková moved up six places in the tennis rankings
Would you find any points of contact between fighting for the Wimbledon title and your first major breakthrough and advancing to the 2016 US Open final?
At that time I was a total outsider in almost the entire tournament and from the 4th round it was a huge surprise for me as well. Here I took the second week as a success. But I was still the 8th committed and set high goals. So a completely different role than five years ago. At that time, I almost always played with the girls who were above me. Now it was the other way around. Even though I go to Sabalenkova, I take it that I should win. I defeated Williams' sisters five years ago, so I was in euphoria, but I may have played better matches at Wimbledon.
How big a share of your coach Sascha Bajin has in this year's final?
I used to have workouts when I was upset and disappointed that maybe sparring didn't work out, but he's never upset. It doesn't make a big science out of it. I've had a lot of stupid matches this year and he's never been down or overwhelmed. He was still in a positive mood. When he saw the effort, that was enough for him. But he still believed it would come.
What about your next collaboration?
(We knocked on another year, Plíšková's husband and manager Michal Hrdlička intervened in the conversation.) But even if I lost in the first round, there is no option for me to end it.
Final analysis: Plíšková? Combatness for one, but very careful tactics
You are flying to Tokyo for the Olympics in a few days, what can we expect from you?
It's a pity that Sascha can't come with me, because lately the peace has been passing on to me … But there will be Petr Pála, David Kunst, Dr. Voráček, so I think it will be a bit like in the Fed Cup. But I'm not a player who depends on anyone.
But the games will be without spectators, which will freeze, especially compared to Wimbledon, right?
It's a disappointment, but we've already had a year without spectators. The first tournament in America was awful at the time, but we all got used to it. Maybe it's a good thing for me that I didn't experience the Olympics with the spectators. Without spectators, I play a lot worse and I'm probably not the only one. But we have to find another motivation when there are no people.
When are you going to Japan?
I already had a ticket for Saturday because I didn't even expect to get that far at Wimbledon. Now I'm going to ride my mom, dad, friends and on Thursday I'll fly to Marbella in Spain. We will train for a few days on concrete to make it worthwhile in Tokyo. There is more peace and Michal has a daughter there during the holidays … And on Monday I fly to Japan.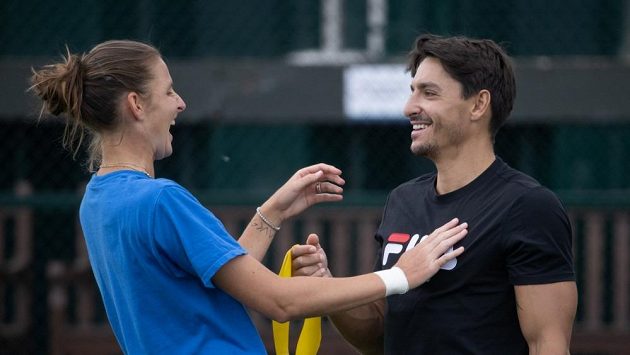 Hrdlička slipped in front of his wife Plíšková. And he praised a better place than Tom Cruise
.