The destruction of the Achères station, which processes 60% of the wastewater of the Paris conurbation, caused spills that asphyxiated the fish fauna.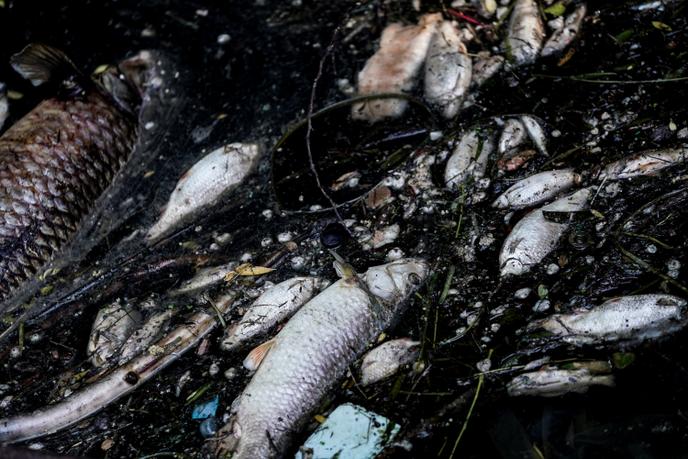 Several tons of dead fish have been recovered in the waters of the Seine, downstream of the wastewater treatment plant of Achères, in the Yvelines. At the origin of the hecatomb, a fire occurred Wednesday, July 3 on this site which resulted in the discharge into the river of water loaded with organic matter, causing a lack of oxygen and asphyxiation of fish. In addition to the 400 kilos collected from Friday, about 3 tons of dead fish were collected by boat Saturday between Achères and the Andresy dam, about ten kilometers downstream, told Agence France-Presse (AFP) Yann Bourbon, the site director of the Interdepartmental Syndicate for the Sanitation of the Paris Metropolitan Area (Siaap).
An equivalent amount should be collected Monday in a dead river near the point of discharge of reclaimed water, near the island of Herblay, Val-d'Oise, he added. The area, a tongue of water about 500 meters long by five wide, was covered Sunday with dead fish, causing significant nuisance olfactory.
Sensitive site classified Seveso
"Meteorological and hydrological conditions do not help"said Bourbon. The temperature of the Seine, of 25 ° C, is indeed high, and its flow, of 100 m3 per second, is low, which does not promote good reoxygenation of water. The manager, however, highlighted a positive point: "Andresy was found to have an almost normal level of oxygenation today, so conditions are in place for there to be no more fish mortality. "
The discharged water is again of good quality, except for the phosphorus, which still can not be treated by the plant, Bourbon said. The origin of the incident remains unknown. The heart of the burned area was not accessible Sunday, fumaroles still escaping from the site, under the control of fire teams Siaap.
The fire took in a large building of 1,000 m2 which contained ferric chloride used to rid the wastewater of their phosphorus, glowing plastic tanks and roofing in wooden slats. This is the third time since the beginning of February 2018 that a fire has occurred in this sensitive site classified Seveso at the "high threshold" level because of toxic risks. Built in 1940, the Seine-Aval wastewater treatment plant, which covers 250 hectares, is one of the largest of its kind in Europe and normally processes 60% of the wastewater in the Paris area.
Article reserved for our subscribers

Read also
Endocrine disruptors: French rivers are full of pesticides
React or consult all the contributions