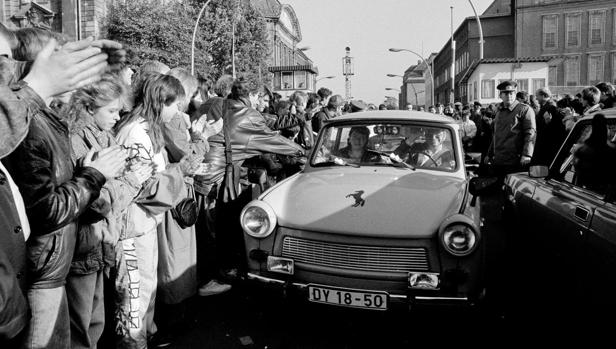 For Germany, its unification and the collapse of the Wall that separated Berlin were a dream, an obligation, a necessity. The so-called "wall of shame" fell on the night of Thursday 9 to Friday 10 November 1989, 28 years after its construction. A multitude of Berliners from both sides of the city went to the Brandenburg Gate to perch on the wall and, in many cases, tear it down with hammers and chisels. The fall of that Cold War symbol accelerated the unification.
But in addition to the passage of people, a little boy, the Trabant, also affectionately known as the "Trabi" managed to cross the wall and become a symbol. Wishing the dream of thousands of East Germans, this Spartan car, with a rather sparse and noisy engine, the Trabant has even become a tourist attraction and a collection vehicle.
Its history takes us until the end of the 50s, when in the German Democratic Republic VEB Sachsenring Automobilwerke Zwickau, a former Horch factory, starts manufacturing cars. Among them the Trabant, which in German means satellite, and which refers to the Sputnik satellite.
It was a car manufactured practically by hand and throughout its history, until 1991, it only underwent small aesthetic or mechanical changes. They were not precisely efficient cars, since they consumed about 7 l / 100 km of gasoline, and barely reached 112 km / h.
Its twin-cylinder 500-600 cc two-stroke engine, inherited from a design prior to World War II by DKW motorcycle manufacturers, came to touch 18-26 HP of power. It had an independent suspension, body elements made of recycled material, front-wheel drive and monocoque chassis.
The engine was air-cooled and, in the absence of a lubrication system, the oil was poured directly into the fuel tank (the first versions did not even include a level meter). The most sophisticated it had was a 1,043 cc (1.1) inherited from Volkswagen thanks to an agreement between the two Germanies, but very shortly after, with the fall of communism, the production became unfeasible without public subsidies and ceased to be marketed.
Simple elements that made it durable, since almost anyone could personally repair their car and a Trabant could last three decades in active duty.
There was a certain variety: sedan, family and even convertible versions. There was even a pilot clutch version, but with manual gearshift, for people with mobility problems. Also a racing version, the Trabant 800 RS, with a 0.8 engine and 65 horsepower.
The last one was manufactured in 1991, the end of a production of about three million units, and many were abandoned to their fate and forgotten. Today there are about 33,000 vehicles of this type in circulation, most of them by nostalgia or as fun for tourists. . (tagsToTranslate) Trabant (t) Wall (t) Berlin