Trinity Bank of Zlín's billionaire Radomír Lapčík reacts to the increase in CNB interest rates and raises interest rates on the savings account. Newly, deposits with an unlimited amount of interest will earn 3.18 percent per year.
Trinity Bank is the first domestic bank now to offer the option save without limiting the amount of the deposit, the notice period of the deposit and free of charge. Interest 3.18 percent pays interest to the entire deposit.
"In line with our strategy, we are raising rates and will continue to monitor the decisions of the Czech National Bank. We have been focusing on above-standard appreciation of our clients' finances for a quarter of a century and we always try to respond to market developments immediately, "says Trinity Bank founder Radomír Lapčík.
Churchill's force is needed in the crisis, says banker Radomír Lapčík
Newstream TV
We have built the group conservatively from the beginning, thanks to which we managed to manage the crisis very well, says banker and financier Radomír Lapčík on the Victory Club program. "But when a crisis occurs, the boss must stand in front of the team and say that he trusts the team and that we will manage the crisis," adds Lapčík.
Read the article

The main pillars of the bank, which will celebrate its 25th anniversary this year, are real estate financing and development projects and long-term appreciation of money within savings and deposit accounts. The bank used to be a pledge of the Moravian Monetary Institute.
The company was founded in 1996 by Zlín businessman Radomír Lapčík, who is also an investor in the internet daily newstream.cz.
The company was one of the largest savings cooperatives in the Czech Republic. The company received a banking license from the Czech National Bank in mid-December 2018, subsequently renamed Trinity Bank.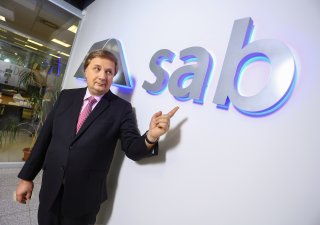 A four-day working week is very motivating for people, says financier Radomír Lapčík
Newstream TV
In 2021, the SAB Finance financial group achieved a record profit of CZK 200 million. It has grown in its main currency hedging segment for companies, and the ProStream fintech platform and a pair of banks in which SAB Finance has a stake is also thriving. What is the recipe for the success of SAB Finance founder Radomír Lapčík?
Read the article