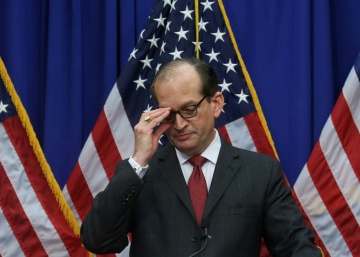 Alex Acosta could not stand the pressure. The secretary of employment of the Administration of Donald Trump has presented his resignation Friday after being in the eye of the hurricane for the role he played as prosecutor in 2008 in the agreement that allowed billionaire Jeffrey Epstein to avoid federal charges. Then, the fund manager was accused of paying minors to do massages, blow jobs and other acts of a sexual nature. The dust of the case has been removed because on Monday Epstein was formally charged with sex trafficking of minors and conspiracy, charges that can be sentenced to 45 years in prison. Trump, accompanied by Acosta, made the announcement this morning as he left the White House for a trip to Wisconsin and Ohio. "I hate to see this happen," the president said.
The step to the side of Acosta has caused surprise because less than 24 hours ago the official called a press conference in which he defended his acting as prosecutor of the case for 40 minutes and said that the relationship he had with Trump was "exceptional" and that until the president did not ask for his resignation, he will not leave the post. The president clarified this Friday that he was not the one who asked him to leave office, which will be effective in seven days. "My point is that we have an incredible economy and the focus should be on creating employment in the economy," said Acosta.
Acosta's decision is a triumph for the Democrats, who since Epstein was arrested, asked for his resignation for having led the indulgent pact a decade ago. Between 2002 and 2005, the multimillionaire paid dozens of minors for massages that ended up many times in sexual abuse, according to research. As a Miami federal prosecutor, Acosta negotiated with the fund manager's attorneys to plead guilty to having prostituted a child, entering the sex offender registry and 13 months in prison, in which he could leave 12 hours a day at his office in Palm Beach, six days a week. With this, the defendant avoided federal charges against him, in which he risked having been sentenced to life imprisonment.
Another reason for questioning Acosta's work in 2008 is that he kept the agreement secret to the victims, according to him, so that they would not lose financial compensation. This year, a federal judge ruled that Miami prosecutors violated the victims' rights by not notifying them that the agreement included that no federal charges were going to be filed. "Today's world treats victims in a very, very different way," Acosta apologized during Thursday's hearing, in which he did not apologize.