Mountaineer: Europe has a responsibility to help Ukraine win the war
The European Parliament received a proposal from European Trade Commissioner Valdis Dombrovskis to suspend import duties on all Ukrainian exports to the EU for a year. It is intended to alleviate the difficult situation of Ukrainian producers and exporters during the war. The Committee on International Trade, which is responsible for Ukraine, will work in the European Parliament Sandra Kalniete.
"The EU has never taken such trade liberalization measures before. This is an unprecedented case, both in terms of scale and speed, and a strong political signal to Ukraine. European support for Ukraine must be continuous and effective, and The European Commission's initiative is therefore to be welcomed. on S. Kalniete.
S. Kalniete points out: "All Europeans must understand that Ukraine must not be lost in this war. For Ukraine to win, Europe must give it heavy weapons and increase sanctions against Russia, including a total embargo on oil, coal, nuclear fuel and gas, thus ending funding for the Kremlin's war machine. "
The IMF estimates that about $ 5 billion a month will be needed to support Ukraine's war economy in the next three months. S. Kalniete is convinced that the entire international community must help the Ukrainian economy with great financial injection, as well as think about the future by creating a financial fund for the reconstruction of the war-torn country. This should be the support to prepare Ukraine for EU membership.
"Ukraine is and will be part of Europe. We need to be aware that Europe has been living in the shadow of war since the Russian invasion of Ukraine. But unlike the Ukrainians, we are safe, we do not kill, we do not have to hide in the basements "Yes, the cost of living is rising, but abandoning some of the comforts of life is the least we can do to win the war and return to economic normalcy in Europe," stressed S. Kalniete.
Vaidere: Russia's aggression must be fought by all means
"In the fight against Russian assassins and evil ideologies, the Ukrainians are also fighting for us and for peace throughout Europe. Latvia must not only continue to support Ukraine by all means, but also more actively against local symbols of Russian aggression and supporters of Putinism, "said the MEP. prof. Inese Vaidere.
He points out that there are still hundreds of monuments to the Soviet occupation throughout Latvia, which offend the victims of totalitarianism in the Soviet Union and their families. They must be removed without sparing the monument in Pardaugava. "It is also necessary to ensure a truly safe environment for all those opposed to Russian aggression. Every attack, not only physical but also verbal, must be countered with all severity. There is no tolerance for statements or actions in support of the war!" point to I. Vaidere.
At EU level, the MEP continues to work for more aid to Ukraine and stronger sanctions against Russia. "Since February 24, the occupiers have committed a number of war crimes, including the illegal deportation of more than a million people from Ukraine to Russia. The perpetrators must not go unpunished, so Russia's crimes must be tried in a special war court." I. Vaidere is convinced. He called for urgent action by the European Commission to use $ 300 billion in Russian money frozen in the West to rebuild Ukraine's arms and support the victims of the war.
I. Vaidere, Vice-President of the European Energy Forum, also recently held a discussion with EU decision-makers and the energy industry on how to end dependence on Russian energy imports. He is pleased that he has succeeded in convincing colleagues of the need for the EP resolution to insist on the complete abandonment of all Russian energy resources immediately, including gas. In a letter, I. Vaidere also personally called the German Chancellor Sholc, pointed out the country's historic responsibility to stop the genocide in Russia and stressed that everything must be done to help Ukraine defeat the aggressor.
Constant pressure on member states has helped secure important arms supplies to Ukraine and new EU sanctions, which increasingly limit Russia's ability to finance the war. However, I. Vaidere believes that even stronger action is needed.
Weber: Conference on the future of Europe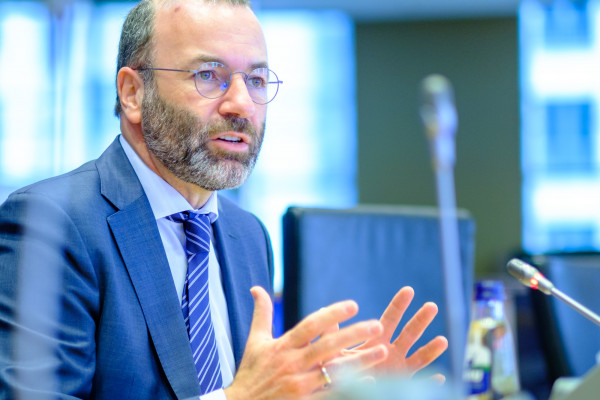 President of the Group of the European People's Party Manfred Weber emphasizes that conferences on the future of Europe set a new path for Europe: a Europe that is stronger, more democratic and more ready for action.
The last decade has shown that we cannot continue to move from one crisis to another.
"Europe must prevent the crisis, not react to it. We know that Putin, China and the world are not waiting for Europe to be ready. Europe must act now. To do this, conferences on the future of Europe offer a number of proposals based on on the ideas of tens of thousands of Europeans, "says Manfred Weber.
Putin's unjust and barbaric invasion of Ukraine was a wake-up call to Europe.
We need to act faster on a global scale. Therefore, we must ensure that decisions in key policy areas, especially foreign policy, are not taken by consensus. A country should not block the European continent.
More – www.futureofeurope.eu
***
ETP group publications pay for, eppgroup.eu
Prepared by Ģirts Salmgriezis, ETP Group Latvian Press and Communications Advisor.