For the first time since 2013, a temperature of -16.2 degrees was measured on Tuesday. It is a "very severe frost", according to Weerplaza about the measurement taken at the weather station in Hupsel, Gelderland.
The last time such temperatures were measured in the Netherlands was in February 2013, when a cold snap took place that lasted ten days.
The cold will continue for the time being. "The temperature is no longer above freezing point this week. It is even very likely that very severe frosts can be measured in several places in the country just before sunrise," Weerplaza said.
Anyone on the road must therefore take nuisance into account. Due to the persistent freezing cold, the driving conditions are still dangerous, according to Rijkswaterstaat, due to snow and ice on the motorways. The NS has decided on Tuesday to only use sprinters.
At Schiphol airport, the problems due to the winter weather seem to be over. Delays due to snow and slipperiness are a thing of the past. Due to the corona crisis and travel restrictions, there are far fewer flights than usual. This means that the weather conditions have also had less influence.
Penguins brought in
It is so cold that Koninklijke Burgers' Zoo has felt compelled to bring in the fifteen black-footed penguins and put them in front of the stove. The animals live along the coasts of South Africa and Namibia "and are not naturally used to the current extreme winter conditions".
These are young and partnerless animals that have not yet been able to obtain a place in the cave. The prolonged cold and the night frost are too much of a good thing for them.
A black-footed penguin on its way to the warmth.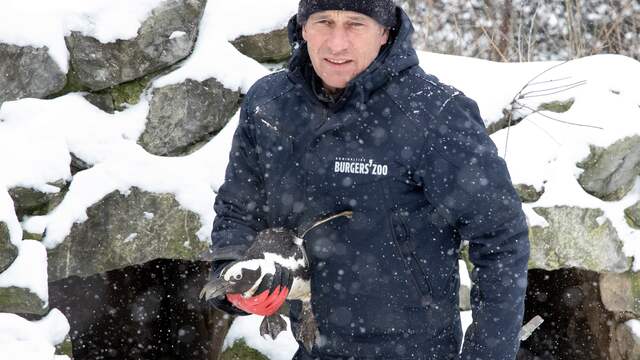 Correction: This article previously stated on the basis of incorrect information provided to NU.nl that the previous very severe frost was in 2012. This must be 2013.
.