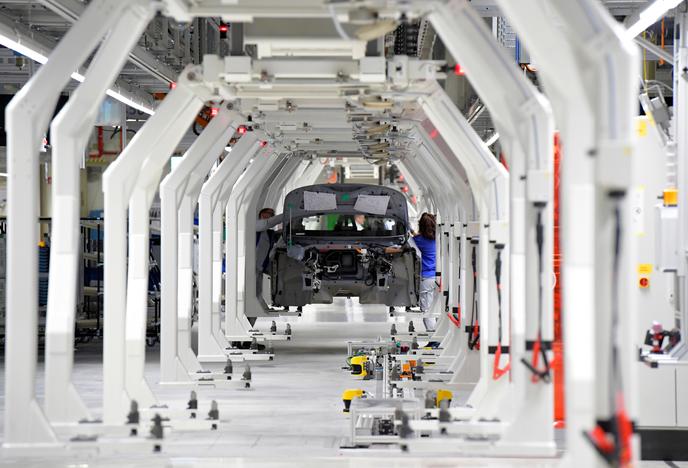 Reinhard de Vries looks at hall number two at the Zwickau plant in Saxony with a panoramic view. On the bodywork line, a forest of robots by the German Kuka is busy, sparking sparks at intervals. In a few hours, the metal carcasses sketched out here will be automobiles. More specifically ID3 models, the small electric racing car, the technological showcase of the new Volkswagen (VW), carbon-free, ultra-high-tech, ultra-connected. The technical director of the manufacturer in Saxony has a smile on his face: here, in this historic complex, from the time of the GDR, we made Trabants.
The Saxon factory alone – and its resilience – materializes the challenges facing the Volkswagen group, world number one in the automobile industry and German icon. The transformation that awaits the company with the twelve brands (including VW, Audi, Seat, Skoda, Porsche …), namely the entry into a post-industrial and post-CO2 era, is radical, as a symbol of the existential challenges that must raise the German industry and economy.

And it is all the more true that the economic context of the automobile has become less favorable to the made in Germany as it could have been in recent years: threats to world trade since the advent of American President Donald Trump, major reversal of the economic situation in China (the major international outlet for German manufacturers), now accentuated by the coronavirus crisis.
A record and a sermon
As a result, the global auto market is currently going through a rough patch, with weak sales for the second year in a row. The number of vehicles sold worldwide fell by 4% in 2019, to reach 90.3 million units, 5 million less than the record of 2017. Enough to shake the thirty major factories that the Volkswagen group runs in Germany and in its hinterland (" countryside ") industrialist from Eastern Europe (Poland, Czech Republic, Slovakia).
Article reserved for our subscribers

Read also
Stefan Bratzel: "Volkswagen could become the world leader in electricity in five years"
However, on January 14, the German auto giant announced a new registration record. It sold 10.97 million vehicles worldwide in 2019, an increase of 1.3% compared to its previous record in 2018. Once again, the group of twelve brands surpassed the Japanese Toyota, its large rival. With its supremacy regained after several years tarnished by the diesel scandal, the manufacturer can give in to triumphalism.