In an interview with the "Süddeutsche Zeitung", Angela Merkel concedes differences with the French president, but denies any deterioration of the Franco-German couple.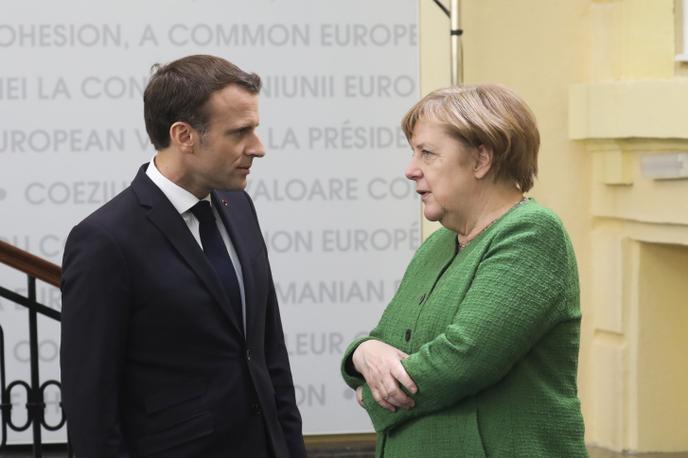 " Of course, we have confrontations (Gewiss, wir ringen miteinander", Said Angela Merkel about her relationship with Emmanuel Macron in an interview published Wednesday, May 15, by the German daily Süddeutsche Zeitung. German Chancellor adds that there is "Differences in mentality" between her and the French President, as well as "Differences in (their) understanding of roles ».
The two leaders have had several differences in recent months, the freeze in arms sales to Saudi Arabia decided by Germany after the murder of journalist Jamal Khashoggi, the future of the European Union, through the Brexit and postponements granted to the United Kingdom.
On the relationship between Macron and Merkel:
the strategy of tension
However, the Chancellor stresses in this interview the "Huge progress" achieved thanks to the Franco-German couple, especially in defense matters. "We decided to develop a fighter plane and a tank together. (…) It's a sign of confidence to rely more on each other in defense policy ", argues Mme Merkel.
"I am much more dependent on Parliament"
The two leaders also signed in January the Treaty of Aix-la-Chapelle on Franco-German cooperation and integration. Have relations deteriorated in recent months? " Not at all ", ensures Mme Merkel, while noting that the two leaders had "Different temporalities".
Article reserved for our subscribers

Read also
Between France and Germany, a new pact, little ambition
The Chancellor pointed out that during the speech at the Sorbonne of Macron, devoted in September 2017 to the revival of Europe, she had just passed the course of the elections to the Bundestag and negotiating a new coalition. He had been reprimanded, including in his own Conservative camp, for failing to seize Mr. Macron's proposals.
Mme Merkel also emphasizes the political differences between the two countries: "I am the chancellor of a coalition government and I am much more dependent on Parliament than the French president, who has no right to enter the National Assembly"in the name of the separation of executive and legislative powers.
Angela Merkel finally judges that the European elections, organized from 23 to 26 May, are a ballot "Of great importance, a special election". Many are "Worried about Europe, me too", she says.
React or view all comments