By Safae Hadri on 03/24/2022 at 1:02 p.m.
© Copyright : DR
The Casablanca financial center (CFC) now occupies the 54th position in the ranking of the best international financial centers, established every 6 months by the Global Financial Centers Index (GFCI). However, CFC remains first in Africa and third in the MENA region.
Casablanca Finance City, the financial center of Casablanca, fell one place in the 31st edition of the prestigious ranking established by the Global Financial Centers Index. CFC now occupies the 54e place out of 119 financial centers assessed worldwide, with a score of 632 points, i.e. 4 points more than in the previous ranking.
At the regional level, Casablanca remains the most attractive financial center on the African continent, ahead of Cape Town (55e), Johannesburg (56e), Maurice (87e), Kigali (99e) and Nairobi (101e).
As far as the MENA region is concerned, the financial center of Casablanca ranks 3th rank, behind Dubai (17e worldwide) and Abu Dahbi (31e).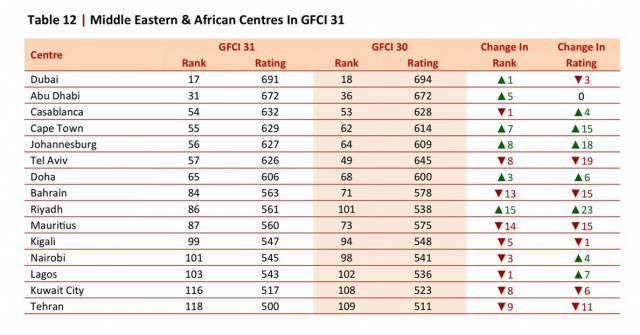 © Copyright : CFCI 31
In all, 126 financial centers were studied for the GFCI 31, of which 119 are now part of the main index.
The Global Financial Centers Index assesses the competitiveness of financial centers worldwide based on a series of parameters such as the quality of infrastructure, human capital, business climate, and even reputation.
These quantitative measures are provided in particular by the World Bank, the OECD and the United Nations. This index is updated every year, in March and September. It is widely followed by the international financial community and is a valuable reference for investment decisions.
Par Safae Hadri