Zenit – Rostov match can be replayed? Scandal over the judge who set off the controversial goal
Karpin at a press conference drew attention to an important point of the rules. We analyze the controversial episode with the referee Igor Fedotov.
"Zenith" in the majority could not beat "Rostov" in the match of the 20th round of the RPL. In the game there were funny goals, and sending off, and the controversial goal of the hosts. Valery Karpin criticized the main referee Matyunin for the second goal of Zenit in the 78th minute:
"I was sent a regulation on my phone, which says in black and white that after presenting the card, the referee's whistle should sound, – said the head coach of Rostov after the game, – the referee only issued a warning, Zenit played the ball and scored a goal. The whistle, of course, did not sound. Although the judges said the rules have changed. I don't know since what time ".
The rights to the video belong to the National Sports TV Channel LLC. You can watch the video on the Match Premier channel in RuTube.
It is about warning Khoren Bayramyan in the 78th minute. Was the referee wrong here and what now threatens the teams? Arbiter Igor Fedotov, who continues to develop his YouTube channel, told the Championship that Matyunin ignored FIFA's recommendations: "Matyunin ignored the recommendations that are described in the official rules. There are practical guidelines for this season's officials. For example, where to be located at a free kick or 11-meter kick. Logically speaking, these are FIFA recommendations that need to be followed.
The judge cannot be to the right of the wall, because it says there – recommended to the left So, it also says that the whistle is necessary to start and restart the game, stop the game for a free kick or 11-meter kick, end the match, and restart the game after it was stopped. And this is the key point. It says: to resume the game after it was stopped for a warning or deletion. In this situation, Matyunin pulled out a card – he must stop the game, write down the card, and then resume the game with a whistle. Matyunin is clearly worried now, as there may be problems with replaying the match, as the rules of the game could have been violated. "
Thus, Fedotov noted that there is a formal reason for replaying the match due to the referee's mistake.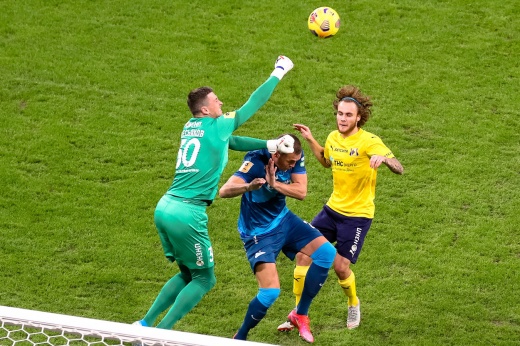 An evening of funny heads in St. Petersburg. "Rostov" was saved by ten men!
Sergei Semak was left without a victory on his birthday.