Former world leaders in doubles Krejčíková and Siniaková played the semifinals of the French Open for the first time in 2016, two years later they won the competition and experienced the semifinals there last year as well. Together, they also have a junior laurel from 2013 in Paris.
In the match against Plíšek, they started with a break when Kristýna was served, but after the loss of Siniak's service, the situation was a 2: 2 draw. The favorites went to the advantage again after the seventh game, which Karolína ended with a double mistake and Krejčíková, who is steadily serving, finished the opening set.
Krejčíková was uneasy before the match, tears welled up in her eyes. Then she dominated the court
In the second set, the two seeders did not offer the opponents a single breakball. They decided to win with a clean game presented by Karolína Plíšková at 5: 4. In the end, Krejčíková served again, and after her service, Siniaková had an easy job on the net during the second match.
"We managed to be aggressive. We expected them to serve well, to come to us, but we did well. We played as a team and it was a good match," said Siniaková. She was not surprised that they broke through the world top ten in Karolína Plíšková's singles twice in the match.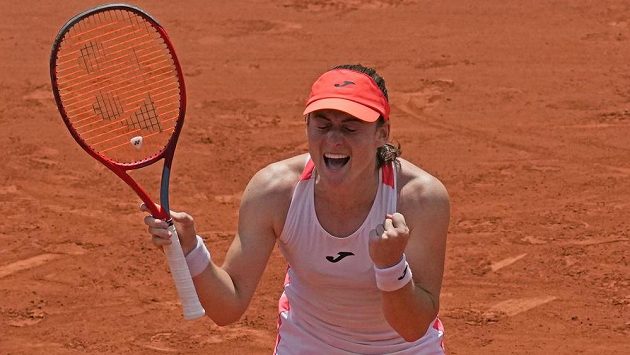 The French Open already knows the first semifinalists
"For me, the left-wing (Kristýna's) service is harder to return, but it was a coincidence. When we revolved well, we could break it and that way. Somehow we wanted it and it turned out well," said Siniaková.
Krejčíková and Siniaková played the Australian Open final this year and won two WTA titles; won the Gippsland Trophy in Melbourne and ruled in clay in Madrid.
The doubles semifinals are not scheduled until Friday, the Czech tennis players will emerge from Wednesday's duel between the Polish-American duo Magda Linetteová, Bernarda Peraová and the Russian-Kazakh pair Anastasija Pavljučenkovová, Jelena Rybakinová.
In addition, Krejčíková also plays well in singles in Paris. For the first time in her career, she made it to the quarterfinals in the grand slam, in which she will play on Wednesday against Cori Gauff from the USA.
French Open in Paris (clay, subsidy 34.36 million euros), women's doubles:
Krejcikova, Siniakova – Ka. Plíšková, Kr. Plíšková 6: 4, 6: 4
Juniors:
Doubles – Round 1:
Donald, Poljičak (ČR / Chorv.) – Cosnet, Verdier (Fr.) 5: 7, 6: 4, 10: 4
Jurajda, Dahlberg (CZE / Sweden) – Bertrand, Sekulic (Fr./Austr.) 3: 6, 7: 5, 10: 6.
Juniors:
Singles – Round 2:
Nosková (CZE) – Bondarenkova (10-Rus.) 6: 3, 6: 0
See (CZE) – Falejová (Běl.) 6: 4, 6: 1
Selechmetěvová (9-Rus.) – Palicová (CZE) 6: 1, 6: 2
Doubles – Round 1:
L. Fruhvirt, P. Kuděrmětovová (2-CZ / Rus.) – Brantmeierová, Kalievaová (USA) 7: 6 (11: 9), 6: 4
Jiménezová, Nosková (3-And./CR) – Rivkin, Vandewinkel (Germany / Belgium) 3: 6, 6: 1, 11: 9
Palicová, Xuová (CZE / Kan.) – Lopezová, Ngijol-Carréová (USA / Fr.) 2: 6, 6: 2, 10: 8.
.