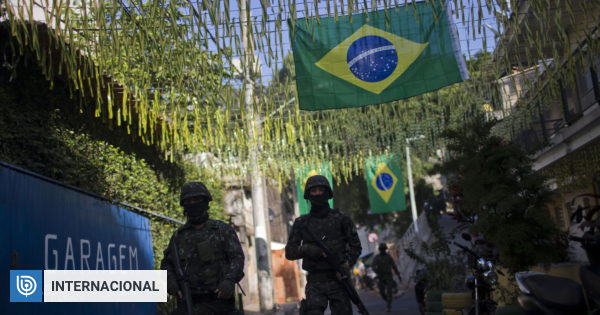 Every year there are thousands of shootings in the streets of Brazil in which innocents are killed or injured. In some cities, two apps now give real-time warnings about avoidable areas.
This week there was a commotion in Brazil for two rounds of film. On Tuesday night heavily armed men robbed several banks in Criciúma, in the south of the country, plunging its inhabitants into anguish and fear. Mayor Clésio Salvaro called on social networks to citizens not to leave their homes.
According to the media, the assailants took several hostages and used them as human shields. The victims were unharmed.
Another assault the next day in the city of Cametá, in the north of the country, was bloodier. More than 20 robbers broke into a branch and took hostages. One of the hostages died and another was injured. The thieves were able to escape.
Even in Brazil these kinds of spectacular assaults in such a short period of time are rare and have generated many headlines. However, armed violence is part of daily life in the country, whether in the form of assaults like these, shootings between drug gangs or militias, and shootings during police raids.
Move more safely
Only in the state of Rio de Janeiro there were at least 3,000 shootings in 2020. They are not official data, but information provided by the application Where There's Shooting (Where there is a shooting, OTT), which warns users of the shootings and these in turn can report where they are taking place.
It was created in 2016 by four friends in Rio de Janeiro. "All of us have experienced delicate incidents and it occurred to us that there was no possibility of getting information in real time about streets and dangerous situations," says Dennis Coli, programmer and person in charge of the technical part and publicity. "Our main objective is that people can go more safely from one place to another with our help."
For their part, Benito Quintanilha, Henrique Coelho and Marcos Baptista take care of daily tasks, such as trying to verify the information received about shootings. Users receive alerts on their cell phones when something happens in their environment. The news can be followed minute by minute and incidents can be located on a map.
Apps reveal scale of violence
Cross-fire is a similar application, developed by the journalist Cecília Olliveira in collaboration with Amnesty International. Fogo Cruzado gathers even more data than OTT, such as whether there are security forces involved in the shooting and how many deaths and injuries there are.
In 2020 alone, almost 800 people lost their lives in shootings in the state of Rio de Janeiro.
OTT also processes the data and makes it available to journalists and authorities if required, but the goal is to use it to protect people from immediate danger. On the other hand, for Fogo Cruzado the idea from the beginning is to make society and politicians aware of the magnitude of the problem of violence.
Network of collaborators helps in verification
Fogo Cruzado has more resources and staff, but OTT has more users.
Fogo Cruzado has been downloaded 250,000 times, while OTT 1.2 million. In addition, according to Coli, Quintanilha, Coelho and Baptista, 4.5 million people follow them on social networks. Coli does not consider OTT and Fogo Cruzado to be in competition, rather they are simply two offers that with their "respective possibilities" can help.
"With us, it is the users themselves who report incidents. And to verify them we turn to people at the crime scene. If, for example, we receive a message that there is a shooting in Rocinha (a favela in Rio de Janeiro), we forward it to our group of helpers there, who are people like residents and taxi drivers, "he says.
Both applications are already available in other locations. The long-term goal is to give all the citizens of Brazil warnings. The demand is assured, because Brazil is one of the most violent countries in the world, with 10,000 homicides a year.
"It's actually sad that people need an app like ours," reflects Coli. He himself, the father of a family, was overcome by the fear of exposing himself daily to the criminality of Rio de Janeiro and ended up emigrating with his family to the United States. "I love the city, it is wonderful. But crime just limits your life too much. "
.