The number of so-called millionaires in the Czech Republic was added last year. Assets have also grown, according to a new World Wealth Report 2022, which is regularly published by Capgemini. There are several reasons for this – from the economic recovery from the coronavirus pandemic and rising real estate prices and stock markets.
Millionaires are defined as people with investable assets of one million US dollars (approximately 23.5 million crowns) and more, with the exception of the main residence, collection, consumables and sustainable consumers.
Wealthy distribution around the world. | Photo: World Wealth Report 2022
Especially in the Czech Republic, their number increased by seven percent last year, so there are already a total of 32,200 in the Czech Republic. Together, their assets increased by 7.7 percent to almost 79 billion (1.8 billion kroner).
In addition to the economic recovery or the continued rise in real estate market prices, however, paradoxically, restrictions during the coronavirus pandemic also helped many wealthy checks. "Some local companies have also been helped by disruptions in the supply and transport chain due to the pandemic, which has led them to win new contracts at the expense of global competition," said Capgemini Czech Republic Director Ondřej Valvoda.
The global millionaire population grew by 7.8 percent last year and their assets increased by eight percent. North American millionaires had the highest population growth and wealth, at 13.2 percent and 13.8 percent, respectively. In second place – with a 6.7 per cent increase in assets and a 7.5 per cent increase in assets – Europe moved the Asia Pacific region to third place, growing by 4.2 per cent and wealth by 5.4 per cent.
According to Capgemini, the richest and wealthiest with more than a million dollars is in the United States, followed by Japan, Germany and China. Together, these countries can account for more than 62 percent of millionaires.
But the fastest in 2021 is the so-called ultramillionaires, people with assets of more than $ 30 million. On average, their wealth increases by almost ten percent.
Number of millionaires in the world: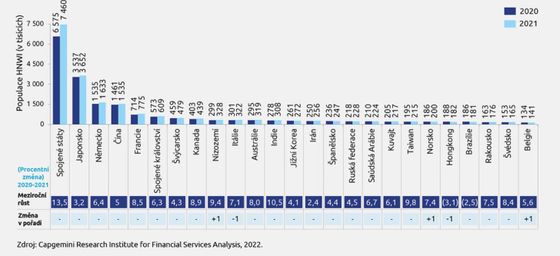 Photo: World Wealth Report 2022
But this year it's different. According to her, high inflation and rising central bank interest rates lead to losses on the stock market. As a result, global millionaire wealth has fallen by four percent since the end of 2021.
The decline in stock prices will affect the rich in North America in particular, but also in Europe, which is also facing a geopolitical crisis.
According to Forbes magazine, the richest man in the world this year is Tesla boss Elon Musk with quite $ 219 billion (in terms of 4.9 trillion crowns). It surpasses Amazon founder Jeff Bezos ($ 171 billion), who had held the lead for the previous four years.
In the Czechs, Renáta Kellnerová and her family finished above in 104th place this year with a fortune of $ 16.6 billion.